7. Using Toothpaste To Polish Silver Jewelry
Interestingly, toothpaste is considered as the ultimate jewelry cleanser.[1] However you should understand that toothpaste is great for polishing the jewelry but it can also damage silver. The abrasive particles present in toothpaste can wipe out the tarnish but these particles also scratch your jewelry if the level is high. Therefore, choosing a toothpaste tube for silver jewelry is extremely important. It is recommended that a plain, solid-colored and non-gel toothpaste with no baking soda and extra whitening agents can work effectively in this case. After choosing the suitable toothpaste, let go next with some following steps.
Step 1: Wet the silver jewelry with some water
Step 2: Apply a small amount of toothpaste to the jewelry
Step 3: Rub the jewelry gently with tissue of soft cloth
Step 4: Use a soft toothbrush to clean the intricate details
Step 5: Redo the process until the scuffs get off
Step 6: Rinse the jewelry with warm water
8. Using Toothpaste To Remove Crayons On The Wall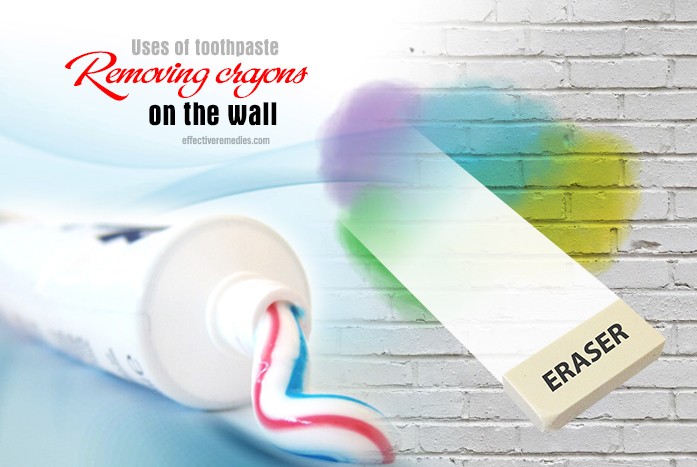 If you have kids, have you ever felt that it is the end of the world when spending the whole Sunday morning to remove all the scribbles on the wall which are the results of your children's creative exploration? Don't worry because toothpaste can help you with this task.[2] However, the most important thing is that you need to decide what kind of surface your wall has, then first try out on a small area on the wall to make sure that the toothpaste works. To get rid of the unwanted crayons on the wall, you need a tube of non-gel toothpaste that contains tiny abrasives which have amazing effects on removing scribbles. The process includes 3 simple steps:
Step 1: Squeeze the toothpaste on the wall
Step 2: Scrub well with a scrub brush
Step 3: Rinse the wall with water
This method is also helpful in removing dry maker stains.
9. Using Toothpaste To Clean Ceramic Sink
One of the most simple and effective ways to clean up your bathroom sink is to use something that is always present in each family – Toothpaste. The only thing you need to do is to take out some toothpaste on the old brush and start to scrub it into the faucet and around the bathroom sink. Using this method, you can definitely get rid of the skin damages made by chemical cleansing products but still make the bathroom sink look better.
10. Using Toothpaste To Remove Smell On Your Hands
Toothpaste has acquired its reputation as a hand washing ingredient for a long time. Thanks to the deodorizer components, toothpaste can fulfill the function of removing disgusting smells on your hands naturally and effectively. Take out a small amount of toothpaste and rub it all over your hands, then rinse all the excessive toothpaste away to get clean hands quickly.
Read more useful home remedies for psoriasis on hands, feet, & other parts
If you are trying to use toothpaste for these purposes and experiencing their positive effects that it can bring about, don't forget to share with us your feelings in the comment section below. To learn more, please visit our News & Facts page.