I. Overview
Do you want to tighten your facial skin, and get rid of sagging skin fast and naturally? Do you want to know which ingredients you can use to tighten your facial skin at your own home? If your answer is "yes," then you should read this writing. In this article, EffectiveRemedies.com reveals to you top 43 ways how to tighten face skin naturally and fast at home without any side effect. This writing listed the best treatments to get tightened facial skin effectively and safely from reliable sources. Continue reading this writing to discover these 43 natural treatments in more detail!
II. Causes Of Sagging Skin
Here are several factors that cause your supple skin to look tired and droopy.
Aging
In fact, the collagen and elastin are very important for your skin because they make it look plump, soft, and youthful. However, when we age, your skin gradually loses these supportive connective tissues. Also, facial muscles become weak with age, which causes sagging skin.
Sun exposure
As you may know, sun exposure is a common cause of losing the elasticity of your skin. The powerful sun rays damage your skin cells, which increases the effects of skin aging over time. Unluckily, it isn't good news for girls who want to get the perfect tan because the UV radiation they soaked up is also breaking down their collagen and elastin, which leads to wrinkles and saggy skin.
Weight loss
If you lose weight too rapidly over a short time, you can get sagging skin. This condition is very common in people who undergo bariatric surgery as their skin is unable to tone back. People who lose lots of weight fast with exercise and diet may be disappointed by their skin that is sagging after their discipline and hard work.
Inactive lifestyle
Having an active lifestyle can help tone and strengthen the muscles that support your skin. Cardiovascular exercises along with weight training help to keep your skin away from sagging. In fact, inactive people tend to get sagging skin, while people who work out regularly often have firm, younger-looking skin.
Bad diet
Eating a balanced diet is a simple way to keep the skin healthy. However, people who consume too much fatty, sugary, processed food and don't get enough vitamins might have sagging skin. A poor diet contributes to premature cell damage and skin inflammation, which causes the skin to sag.
III. How To Tighten Face Skin Naturally & Fast At Home – 43 Best Ways
A. Homemade Skin Tightening Face Masks
Nowadays, the life is more and more developed and modern, not only do environmental factors influence you, but the work also makes you tired. The consequence of these effects makes your skin, especially your face skin, become dull and aging rapidly. Due to aging, the collagen and elastin structure of your skin loses elasticity making the skin appeared loose & saggy. The age may make your facial muscles weak that also contributes to your saggy skin. However, sagging skin not only is caused by aging but also by excessive smoking, excessive exposure to risky sun rays, obesity, pregnancy, regular intake of some alcoholic beverages, rapid weight loss, use of bad skin care products, a poor diet, use of harsh chemicals onto the skin and dehydration. To deal with this situation, you need to have a plan to take care your face skin at the young age.
1. How To Tighten Face Skin With Papaya And Rice Flour Face Pack
Papaya is also great for skin care. Vitamin E in it boosts collagen production and promotes skin firmness and elasticity. Papain [1] found in papaya helps to reduce the sagging. It also promotes skin regeneration and has an anti-inflammatory agent that heals conditions like acne, eczema, and rosacea. Besides, it lightens skin tones and reduces pigmentation. Here's the recipe that explains you on how to tighten face skin with this pack:
You will prepare:
One papaya

1/4 cup of rice flour

Two tablespoons of honey
Practice:
Firstly, take one ripped papaya and mash it finely. To it add the rice flour. Now mix them well and create a paste.

Finally, add the honey to it and now mix all of them.

Finally, add the honey to it and now mix all of them.
After this, apply this paste on to the face. After 20 minutes, wash it with lukewarm water.
See more: Natural home remedies for acne on face & body
2. How To Tighten Face Skin With Fuller's Earth & Milk Face Pack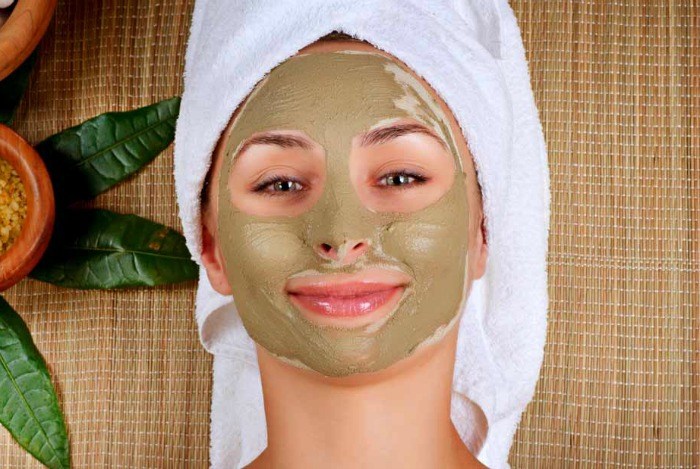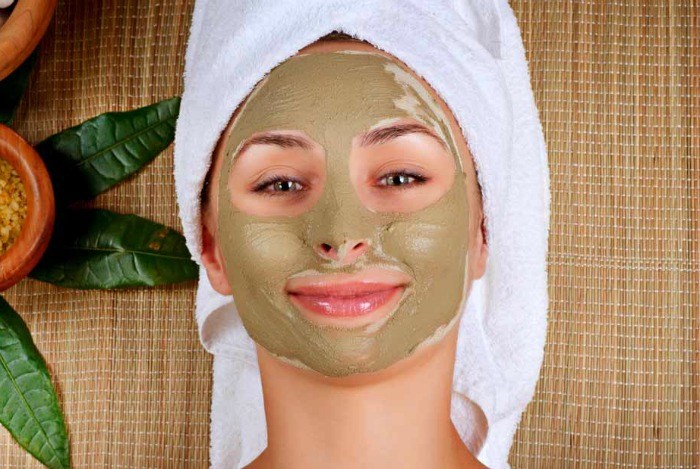 Sagging or droopy skin caused by age is one common problem, and Fuller's earth helps improve skin elasticity to tighten and keep the skin smooth. Milk is useful for long-term skin tightening because it is rich in calcium, Vitamin D, selenium & Alpha Hydroxy acids (AHA). It also aids the production of elastin and collagen, thereby combating wrinkles and remaining elasticity of the skin. This pack will cleanse the face and make it soft after tightening your pores. How to tighten face skin with this pack? Follow these detailed guides:
You will prepare:
Milk with cream

Fuller's earth
Practice:
Take milk containing cream and pour two tablespoons of fuller's earth in this.

Blend this solution well and later apply on your face.

Finally, wash off by using lukewarm water.
3. How To Tighten Face Skin With Apple Cider Vinegar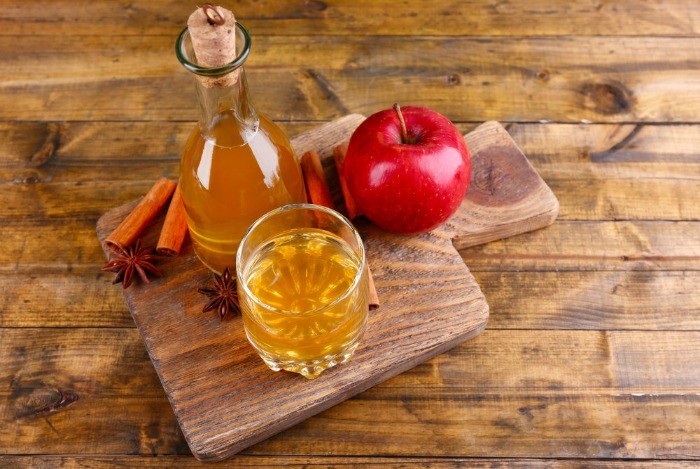 Apple cider vinegar [2] can combat the signs of aging such as age spots and freckles due to its high amount of sulfur. Plus, it tightens your skin and decreases the appearance of fine lines and wrinkles. Besides, apple cider vinegar consists of astringent properties that are beneficial for curing skin conditions like psoriasis and inflammation.
You will need:
1/4 cup of apple cider vinegar

1/2 cup of water
Practice:
First of all, mix the apple cider vinegar with water well and later anoint your face by using the solution.

Let it dry naturally and finally, wash it off.

Alternatively, after you bathe, you can wash you can wash your face by using vinegar mixed with water to make your facial skin feel tighter and look softer.
See more other health benefits of apple cider vinegar 



4. How To Tighten Face Skin With Lemon And Olive Oil Face Pack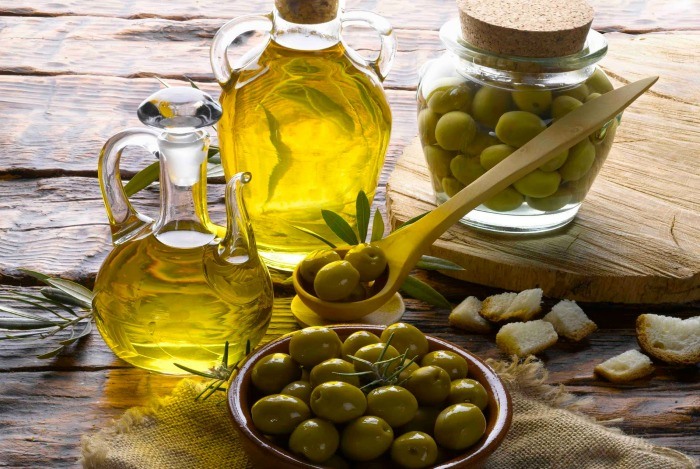 Olive oil is also a good remedy for maintaining the firmness of your face skin. It comprises of antioxidants such as vitamins A and E that can render anti-aging advantages. Plus, it will help keep the skin well moisturized. Lemon juice in this recipe acts as a facial skin pores cleaner. Along with that, lemon is also rich in vitamin C that improves the amount of collagen. Collagen is a substance that helps to prevent sagging skin and wrinkles as well. This solution helps to alleviate the acne on your face.
You will prepare:
3-4 tablespoons of olive oil

2-3 tablespoons of lemon juice
Practice:
Take the olive oil at first and mix 2-3 tbsp lemon juice to it.

Mix them well and apply this mixture on the face.

Leave it for half an hour and lastly, wash by using the warm water.
See more other health benefits of olive oil
5. Egg White, Fuller's Earth And Honey Face Pack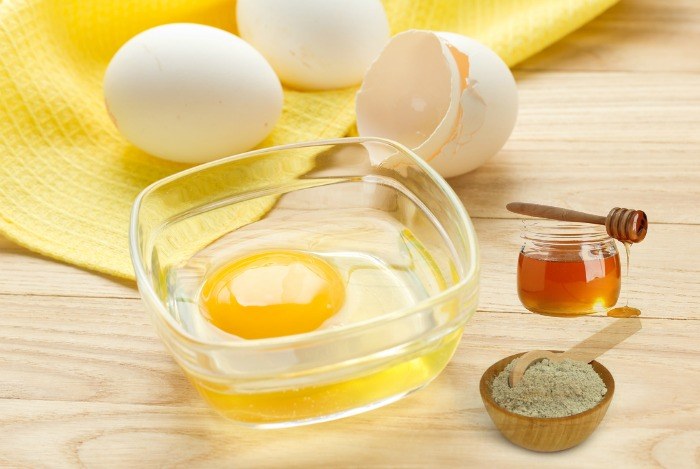 This pack is good for moisturizing and tightening your skin. According to a study, being a powerful source of essential minerals and vitamins, egg whites help to nurture the skin and stop aging [3]. Egg whites are also effective in preventing sagging skin and many other skin problems such as wrinkles or acne. Honey is full of natural hydrating, antiseptic, anti-aging and antioxidant properties. So it can be termed as a great natural remedy for the loose skin. How to tighten face skin with the help of this face pack? Follow these step by step directions:
You will prepare:
Two tablespoons of fuller's earth

One tablespoon of honey

Egg white
Practice:
In a glass bowl, take the fuller's earth and add honey. Later mix them well and add the egg white.

Mix again and apply this pack on your face and keep for 20 minutes.

Finally, wash off with the help of lukewarm water. If you have dry skin, then use glycerin and flour instead of honey and fuller's earth.
6. How To Tighten Face Skin With Besan And Curd Face Pack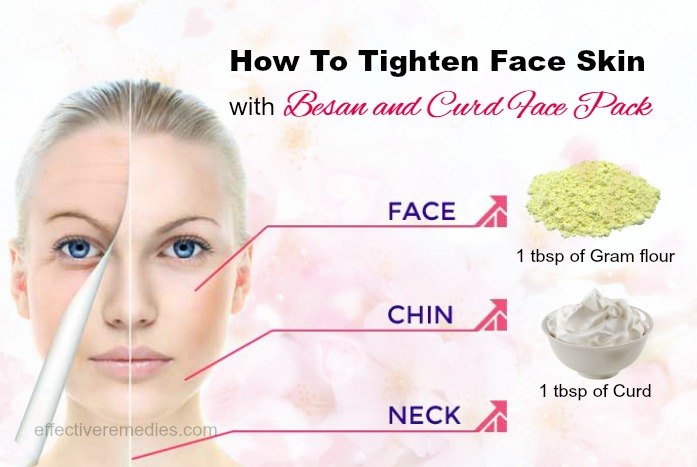 Both besan and curd help to make the skin revitalized, firm and refreshed when applied regularly. Besan helps in getting rid of tan, dead skin and zits. It also brightens the skin complexion and increases the tone. Plus, besan is a good remedy to save your skin from dullness and aging. This pack will tighten your skin and improves the blood circulation as well.
Practice:
First of all, take one teaspoonful each of curd and gram flour.

Mix them well and apply as one thick layer on your face.

As it gets dried completely, wash it off.
See more: How to get rid of wrinkles above your lips
7. How To Tighten Face Skin With Blueberry And Honey Face Mask
Blueberry fights free radicals and tightens skin as well. Blueberries are full of essential vitamins, minerals, flavonoids, antioxidants, phytochemicals, etc. and they are also a great natural skin toner. It's very effective to tone the skin properly which gives a lot of benefits such as maintaining pH balance, tightening of skin pores, reducing the acne risk and providing hydration and nourishment to the skin.
You will prepare:
Two tablespoons of honey

½ cup of blueberries
Practice:
Firstly, blend the blueberries in a blender to achieve a smooth paste.

Then, anoint your face by using the unprocessed honey thoroughly.

After that, apply this blueberry paste to that honey smoothened face.

Wait for 30 minutes and rinse with the help of lukewarm water. You will notice the difference in the face.
See more: Homemade face mask for dry skin



8. Egg White And Gram Flour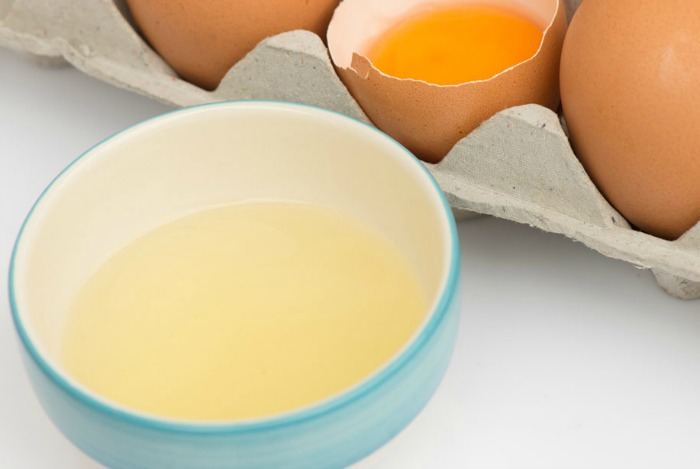 This combination is also a wonderful remedy to tighten the facial skin. Egg white is a great way on how to tighten face skin thanks to its skin firming & skin tightening properties. Gram flour, on the other hand, contains skin tightening effect and deeply cleanses the sagging skin. Apart from that, it also consists of skin firming benefits. How to tighten face skin with this combination? Follow these steps below:
Practice:
Mix some gram flour with egg white at first. Mix it properly and then apply on the face.

Let it get dry and finally wash with water.

Follow this pack thrice in a week. This pack can be used on your arms, neck, and breasts as well.
9. How To Tighten Face Skin Naturally & Fast With Grapes
Grapes contain Alpha Hydroxy Acids which promotes the cell renewal rate of the skin and collagen production as well. Vitamin C housed in grapes helps in collagen formation, which keeps the skin elastic and firm.
Practice:
You just need to take a little grapes juice and later massage on your face and neck.

Leave it for 30 minutes and then wash it off by using water.
See more: Health & beauty benefits of grapeseed oil
10. How To Tighten Face Skin With Rose Water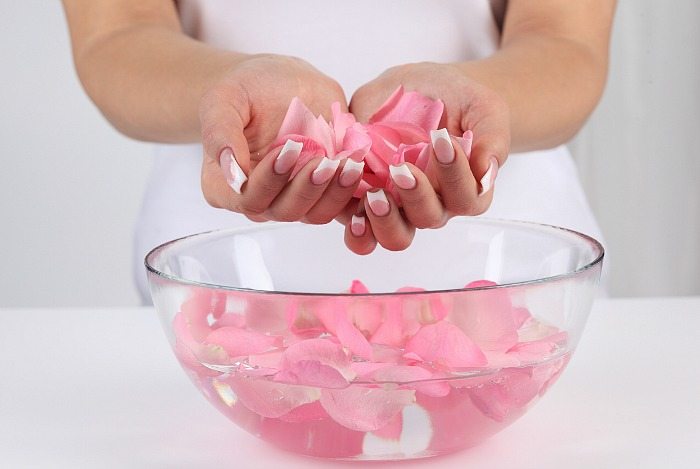 Rose water is referred as your greatest friend, especially relating to the way on how to tighten face skin. It is a simple and natural astringent and toner, which helps tighten the loosened skin. Furthermore, it is wonderful for holding on the clear and glowing skin. Rose water is also famous for its natural antiseptic, anti-inflammatory, and anti-bacterial properties. So, it's excellent for rejuvenating and hydrating the skin. Rose water is also excellent for purifying, cleansing, toning and softening the skin due to its antiseptic and antibacterial agents. Moreover, it contains a pleasant fragrance making it a fresh and light fragrant to wear during the summer season.
You should apply a little of rose water over your face and neck before going to bed.

And, keep it overnight, you will wash your skin in the next morning.

You will be surprised at the result that it brings about.
Alternatively, you can do:
Firstly, you combine the equal amount of witch hazel and lemon juice with a small amount of almond oil.

And then, you add the mixture to a cup of rose water.

After that, you can apply this mixture to your face & neck,

Finally, you have to leave it for 20 minutes before rinsing it off. Do this mixture a few times a week.
11. Egg White Mask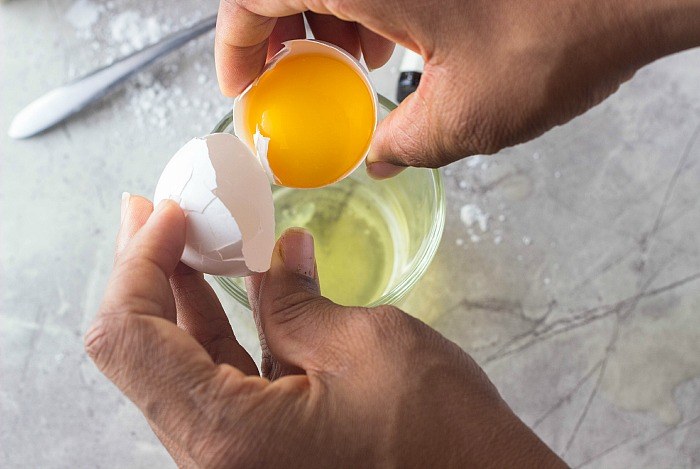 One of the best ingredients on how to tighten face skin is egg white. Egg white is ideal for tightening and toning skin. It is a boon for the greasy and oily skin as it helps shrink large skin pores, thus helping to remove excess sebum. As all we know, egg white is a rich source of protein that is useful in decreasing wrinkles and fine lines. Plus, it is beneficial in keeping the elasticity of the skin. Also, magnesium in it makes your skin look radiant and youthful while potassium aids in moisturizing, hydrating the skin and postpones the aging process of the skin. Last but not least, egg white comes with riboflavin that is helpful for removing cell-damaging free radicals and toxic developing wrinkles and fine lines. You can follow this guide:
Practice:
Firstly, you beat the egg & separate the egg yolk from the white.

And then, you apply the egg white on your face & wait until it dries.

Finally, you wash your face with warm water.
In fact, the egg is the most popular element known for tightening face skin, and many people have mostly used it because the egg can firm and tighten your skin. Therefore, if you do not have enough time to make all the above ways, you can just use this mask. You will be amazed the result it brings about.
See more: How to get lighter skin tone fast & naturally