Every morning and night, toothpaste seems to be a best friend of dental hygiene and fresh breath. However, have you kept in mind that a tube of toothpaste can do more than that? The answer is Yes. Besides acting as a teeth sanitizer, it also brings a host of benefits that you can utilize around your house. Come with us as we note down top 10 amazing uses of toothpaste to make your house cleaner and your health better.  Continue this article on Effective Remedies to find out these unusual uses of toothpaste.
Top 10 Unusual Uses Of Toothpaste That You Will Want To Know
1. Using Toothpaste For Skin care
I bet that many of us have spent lots of money on a ton of high-end skin care products to promote skin beauty, but one thing that you use every day can also act as a wonderful treatment for many skin problems. Moreover, toothpaste is cheap and available for you to apply at home.
The absorptive property which is calcium carbonate found in non-gel toothpaste can reduce acne naturally.  It takes off dirt, toxins and controls the oil production on your face that are all responsible for the growth of acne. Moreover, toothpaste also contains essential oils such as peppermint functioning as an anti-bacterial property that is able to remove and prevent acne.
In addition, toothpaste can be used to soothe the irritated skin thanks to the cooling properties that include peppermint, clove or spearmint. More importantly, this amazing paste can be an anti-aging product inasmuch as it is rich in zinc that is the precious mineral for our skin. When we get old, this mineral will die out. Applying toothpaste containing zinc to the skin can help reduce wrinkles on your face.
Cautions:
When you decide to apply toothpaste as a home remedy for skin, you should be careful. The best way is to test toothpaste on a small skin area first to make sure that you are not getting irritated or burning.

Don't use toothpaste for the broken skin because it can make the counterproductive results for your skin and make it worse
Discover more natural home remedies for lighter skin fast
2. Using Toothpaste To Remove Scuffs On Your Sneakers
As you know, sneakers are designed to satisfy the requirements of doing sports, exercises and they are used as the essential things in the daily life. Due to their using purposes, it is inevitable to keep them clean all the time. Surprisingly, toothpaste can make it possible by removing the scuffs on your sneakers in the blink of an eye. Take out a non-gel toothpaste tube and an old toothbrush and you can start right now to get rid of the stubborn scuffs on your sneakers.
Step 1: Prepare the non-gel toothpaste and squeeze it into the old toothbrush and make circular motions over the stain
Step 2: Wide out the excessive toothpaste with a clean wash cloth
Step 3: Dry off your sneakers as usual
The process is done easily and effectively, it is clear that you can effortlessly make your sneakers look like just-out-of- the-box only by an accessible thing which is toothpaste.
Learn more natural home remedies for toothache pain relief
3. Using Toothpaste To Wipe Out The Nail Residue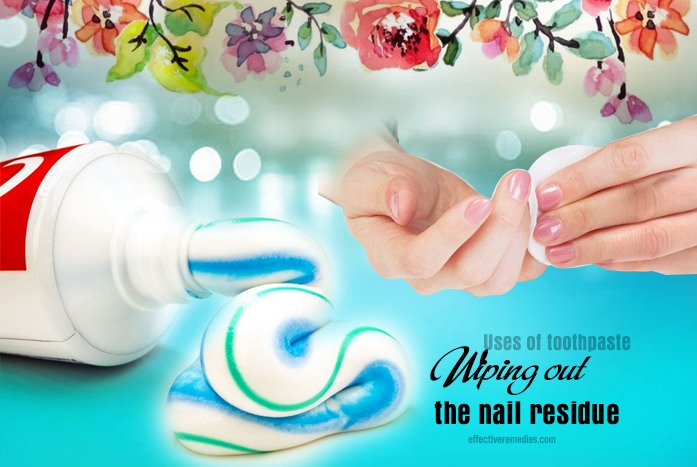 It is indeed a terrible moment when you have to live with the ugly nail residues that are not removed completely. Instead of wasting money on nail polish remover, why don't you replace it by a home-made one which is toothpaste? All the things we need to do are:
Step 1: Take out a small amount of toothpaste and apply it into your nails
Step 2: Rub each nail gently by a nail file and keep doing that until the polish is removed completely.
Step 3: Wash off your nail carefully
So, are you ready to own clean nails without any nail residue with us now?
Explore some home remedies for nail fungus removal