IV. How To Get Rid Of Cysts – Most Effective Remedies
1. How To Get Rid Of Cysts With Castor Oil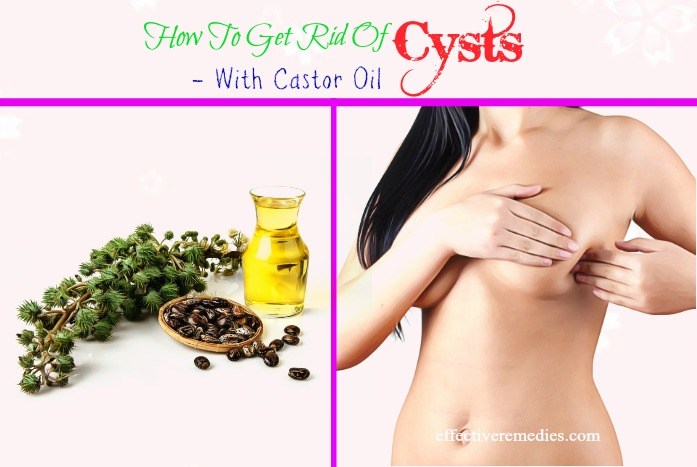 How Does It Work
Castor oil possesses antibacterial and antifungal abilities.[3] It also helps to decrease the itching and inflammation caused due to cysts. It is also potent in promoting circulation and increasing white blood cells
Things You Need
Castor oil

A small washcloth
How To Do
Clean the affected area by using mild soap and water. Soak the washcloth in a few drops of castor oil and then place it on the area. Then, apply warm compress on this washcloth to help open the pores and leave the oil to penetrate deeply.  Remove and wash off using water after 5 to 8 minutes. Follow the treatment twice a day until you see the results.
Side Effects Of Castor Oil
Castor oil may lead to an allergic reaction in a few people when applied to their skin. Thus, before using it, try to apply a small quantity to a small patch of skin.
2. How To Get Rid Of Cysts With Tea Tree Oil
How Does It Work
Tea tree oil is a safe and wonderful method to get rid of cysts naturally and fast, as it comes with anti-inflammatory, antimicrobial, and antibacterial properties.[4] Here is the way to treat cysts with this oil.
Things You Need
Tea tree oil – two drops

A cotton ball
How To Do
Use mild soap along with water to wash your affected regions. Add the tea tree oil on the cotton ball. Then, place it on your cyst and use a bandage to secure. Wait for 8 to 10 minutes before removing the cotton ball and rinsing with lukewarm water. For quick results, repeat the process once per day.
Side Effects Of Tea Tree Oil
For most people, tea tree oil is likely safe when putting on the skin. However, it can cause skin swelling and irritation. It can sometimes result in skin dryness, stinging, itching, redness, and burning in people with acne.
3. How To Get Rid Of Cysts With Apple Cider Vinegar
How Does It Work
Apple cider vinegar consists of many medicinal properties, which make an excellent treatment for many ailments including the cysts. It contains the acetic acid that aids in killing the bacteria causing infection.[5] Besides, it helps to rid the inflamed cyst of the pus.
What You Need
Apple cider vinegar – one teaspoon

Water – 1 cup

Blackstrap molasses – one teaspoon
How To Do
Firstly, add the ACV to the water and to it, add the blackstrap molasses. Then, mix it up to create a solution. Afterward, sip onto two cups of this solution day for about a month.
Side Effects Of Apple Cider Vinegar
Apple cider vinegar reacts with some drugs such as insulin, diuretics, and laxatives when it is consumed because of its acidic property. If you're a diabetes patient, avoid consuming ACV.
4. How To Get Rid Of Cysts With Epsom Salt
How Does It Work
Epsom salt consists of anti-inflammatory properties. In addition to this, it is useful in draining out the dirt and pus accumulated in the cyst.
Things You Need
Epsom salt – two teaspoons

Water – ¼ cup
How To Do
Add the prepared Epsom salt into the water and stir thoroughly until the Epsom salt entirely dissolves. After that, apply this solution on your cysts and let it dry. Follow this remedy 4 to 5 times a day for fast results.
Side Effects Of Epsom Salt
Like any other supplement or drug, Epsom salts can lead to an allergic reaction such as a rash, swelling, itching of the face, lips or tongue, hives, and difficulty breathing. Anyone who undergoes these symptoms needs to seek emergency medical attention.
5. How To Get Rid Of Cysts With Ginger Juice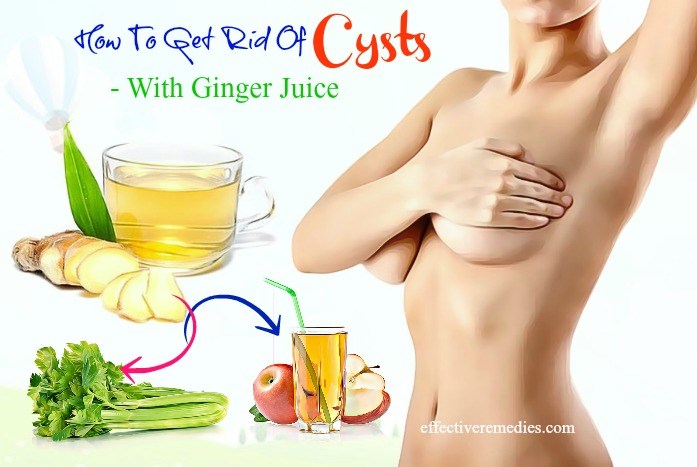 How Does It Work
Ginger contains many anti-inflammatory agents so that it can aid you in getting relief from ovarian cyst and cystic pain.[6]
Things You Need
A piece of ginger

Apple juice – ½ cup

Stakes of celery – 2

¾  of a pineapple
How To Do
Cut the ginger piece into slices and add the pineapple, apple juice, and stakes of celery. Then, put these things into a juicer and create a solution out of them. After that, take this solution daily for desired results. Also, you can drink 2 to 3 cups of ginger tea daily.
Side Effects Of Ginger
Ginger is commonly free of side effects, yet some people might suffer from mild heartburn, stomach upset, and diarrhea. People with gallstones should consult a doctor before consuming ginger.
V. Nutrition After Cyst Removal
As per Better Health Channel, surgery is the usual cure for cysts. If you have had your cyst removed, it is important to pay attention to your regular diet to enhance healing. You should include healthy sources of protein such as fish, eggs, and poultry. Plus, consume enough amounts of carbs such as vegetables, fruits, whole grains, and healthy fats such as nuts and oil to provide the body with calories needed for the healing process.
VI. How To Get Rid Of Cysts – Dos and Don'ts
Don't try to drain or pop the cyst yourself because it can lead to infection and the cysts can probably come back.

Wrap the cysts in a bandage if they start draining and check with your doctor.

Keep the cysts clean by washing with warm soap & water.

Try to put one bathwater-warm washcloth on a cyst for thirty minutes, three to four times per day, to help calm it and speed healing.

Wash your hands carefully after touching or curing the cysts.

Eat nutritional food and exercise regularly to control hormone levels and inhibit the cysts.

Decrease the consumption of oily & spicy foods which help to prevent the occurrence of cysts.

Colloidal silver can be ideal for lowering the inflammation and improving the immune system functioning. Hence, apply the cream on your cyst daily until it clears.
Did you find all the information present in this post helpful? Do you know other ways on how to get rid of cysts in breast, on face, or on neck? Share your experience, queries, and suggestions in the comment section below. We hope you found all the information in this article useful. All of the contents provided in this article are for informational & educational purposes. We recommend you consult a healthcare professional to determine which method is appropriate for you. To know more effective treatments for other health & beauty conditions, please visit the How To page.