DIY remedies appear in every corner of the Internet, especially the ones for your skin, but that does not mean that each one of those remedies is good for you. There're many methods to keep your skin healthy and clear. However, the following 23 things you should never put on your face, which are collected by EffectiveRemedies.com from reliable sources. Read on, and remember.
23 Things You Should Never Put On Your Face
1. Mayonnaise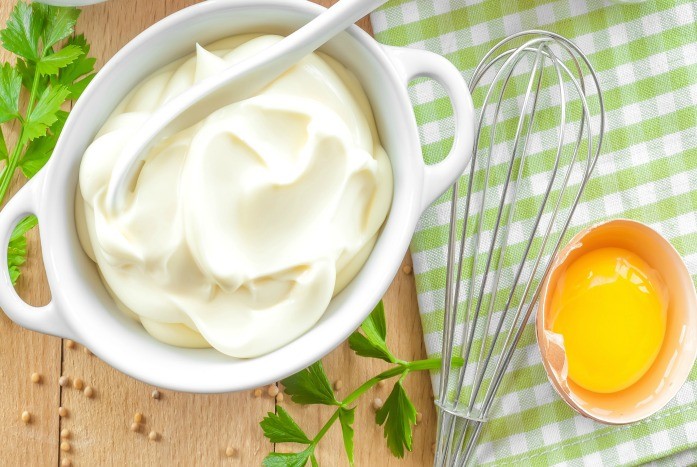 "Mayonnaise is good for the hair, but it's not good for the face."
It's acidic, and it'll also result in clogging of pores, therefore not letting it breathe. So, do not ever use mayonnaise on the skin, even by mistake. If you want to use mayonnaise in the beauty regime, then use it to damaged or dry hair. However, you need to keep it away from the cheeks.
2. Hair Serum
Hair serum is also one of the things you should never put on your face. Just like other cosmetics, the serums for various parts are included different components, and just because one label reads serum, it does not mean the skin can handle this. Hair serums contain ingredients which are meant to deal with the hair shaft, and won't treat skin fine lines or woes. These hair serums also are heavily fragrant as well as can irritate your skin.
EffectiveRemedies Partner Solutions

Ask a Doctor Online and Get Answers in Minutes, Anytime!
Have medical questions? Keep asking questions to a Verified Expert until you get the answer you need.
See more: 34 Best Ways On How To Tighten Face Skin Naturally & Fast At Home
3. Shampoo
Your face and hair are made of various molecules. Your face needs one cleanser made of plenty milder stuff while your hair requires strong surfactants to get rid of the oil and dirt as well. Shampoos cannot cope with the delicate molecules constituting your facial skin. The shampoo will end up looking dry and flaky if you use it to wash your face. When washing your hair, ensure the shampoo doesn't touch your face.
4. Foot Creams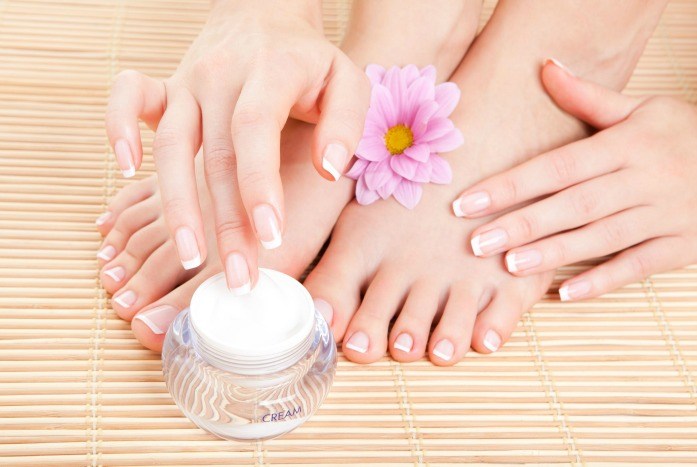 Foot creams are extremely sticky, thick, and very rich as well. They're made so that they can exfoliate and break down the tough dead skin on the feet. These things will only injure your facial skin.
See more: Top 71 Ways How To Get Rid Of Pimples On Face & Body Fast
5. Deodorant
If you think that just when one deodorant hampers perspiration in the underarms, it'll also keep the makeup from melting down and the face from perspiring, you are wrong. The facial skin requires breathing, and if you use one deodorant on it, it'll stop breathing.
6. Nail Polish
Nail polish is also considered among the things you should never put on your face. It contains acrylic molecules totally drying out your skin. If you ever have to color the face, ensure you use color or paint that is safe and formulated for your face.
See more: 34 Best Tips On How To Get Beautiful Skin On Face & Body Naturally
7. Hair Color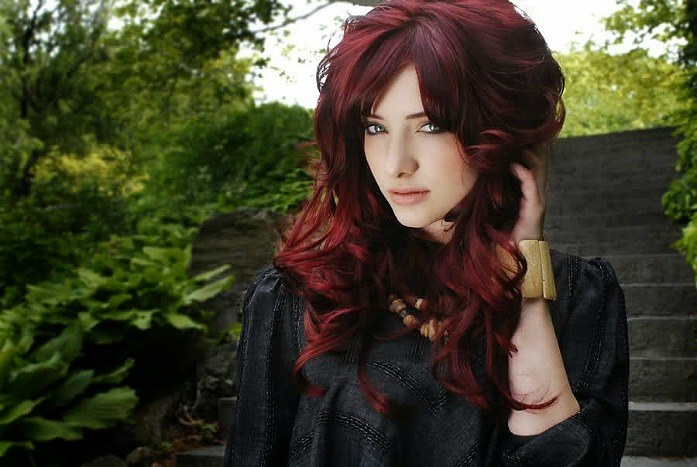 Hair color is one of the top things you should never put on your face. Hair color contains an overload of chemicals which could be really harsh on the skin. For people who like to color the eyebrows to match the hair color, it's best to use tinted brow mascara or vegetable dyes instead of box dyes. General speaking, these box dyes could irritate your skin around the eyes and make it burn, which cause you to tear up.
8. Vegetable Shortening
Basically, vegetable shortening is a cure for psoriasis, and can be used only on the skin of your body. It's too heavy for the facial skin, and will certainly result in clogged pores and breakouts.
9. Acetic Acids aka Vinegar
Generally, vinegar is one toner. Remember that vinegar loses water when it ages that causes it to become stronger. It will burn the skin if you use strong vinegar. It's best to buy one toner that is suitable for the skin requirements, rather than experimenting with the facial skin. Your face is fragile and delicate, more than you recognize. It is best you're aware of everything coming in contact with the face. Care good for it and stay beautiful.
See more: Best homemade face mask for dry skin: top 22 helpful recipes



10. Body Lotion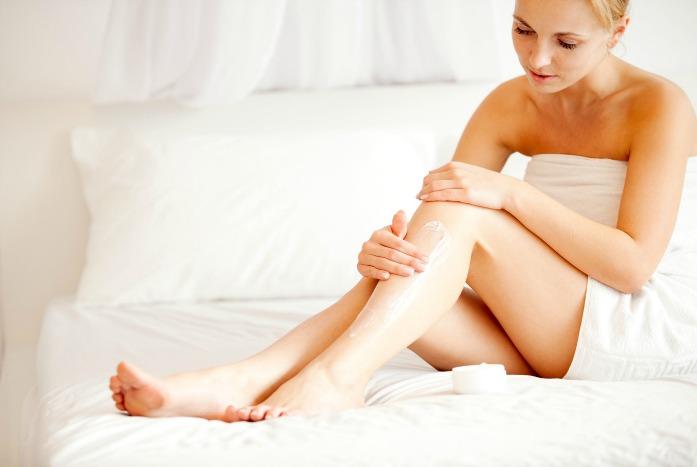 This product's name said that this lotion is not for the face, but for the body only. Research indicates that the skin of the face is different than your skin of the body. You should treat the face using a face lotion. Generally, the skin on the remaining of your body is more resilient and thicker than the skin on the face, which is why nearly all body lotions contain less nourishing and more fragrance ingredients than the facial moisturizer. Traditional body lotions should not even be utilized in a dry skin emergency, because their ingredients can lead to even more dryness on your face, clogged pores as well as potential allergic reactions. Dr. David E. Bank at The Center for Dermatology, Cosmetic & Laser Surgery in Westchester, NY, says that the face skin is much thinner than other areas of the body. Body lotions can cause breakouts and allergic reactions because they contain more fragrances and tend to be thicker than facial moisturizers. Make sure to utilize a fragrance free and oil-free facial moisturizer to maintain a healthy balance of moisture and prevent any breakouts as well.

11. Hairspray
Hairspray is applied on your hair, but on your facial skin, it can injury it by drying it and also clogging the pores which can lead to an irritated skin. Even though a lot of DIY products claim that the hairspray can be applied for treating your skin by drying acne, they're efficient in a thing: damaging the skin. In addition, repellents in hairspray can irritate your skin, making it bumpy and red. It also contains lacquers and alcohol that will dehydrate the skin and make it become look older. Dr Bank also says that many people set their makeup in a pinch by using hairspray. However, hairspray has alcohols that can remove the skin of moisture. In addition, it can clog the pores and cause irritation as well as acne flare-ups.
12. Toothpaste
Dermatologist Ranella Hirsch indicated that toothpaste can actually raise melanin production, and it can form brown spots as well as discoloration in the parts applied. Toothpaste can also irritate the skin overall because most toothpaste has mint. Drying acne using toothpaste is an old cure used a long time before. Generally, you can apply it to dry zits too, yet you can get the skin irritated. Chemical scars, burns, or other damages can follow. The best solution to apply is tea tree oil if you desire to protect your skin. It will not harm the skin in any case.
See more: 30 Tips On How To Treat Dry Flaky Skin On Face Fast & Naturally
13. Baking Soda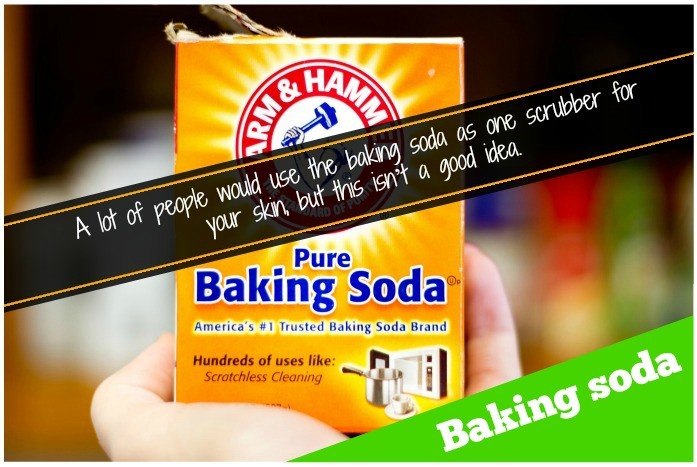 Dr. Bank also notes that baking soda consists of high alkaline levels that can lessen the pH balance on the faces and result in really dry skin. A lot of people would use the baking soda as one scrubber for your skin, but this isn't a good idea. YouTuber and Professional aesthetician Veronica Gorgeois claimed that to never, ever apply baking soda on the face. She figured that the skin has one naturally acidic pH that assists to keep your protective lipid layer intact. As you introduce one highly alkaline substance such as baking soda, it may damage that layer. The rough texture plus consistency that are its main properties would change the pH balance that will result in damaging your skin and preventing it from keeping the moisture.
See more: 35 tips on how to treat dry skin on face & body naturally at home
14. Sugar
Rebecca Raymond, Carefree Organics creator, wrote that salt and sugar draw out your moisture in surrounding materials, and thereby have one dehydrating effect on the skin. Using sugar can practically damage the face skin, since it is used for scrubbing legs as well as other parts of your body, but not your face. Even though a lot of face lotions have sugar, is not the best to use it on the face. Bank says that sugar can actually abrade and scratch the skin because it acts as a great exfoliant on the face. Avoid using products containing hard shaped particles because they can lead to microscopic tears in the skin and result in breakouts.
15. Lemon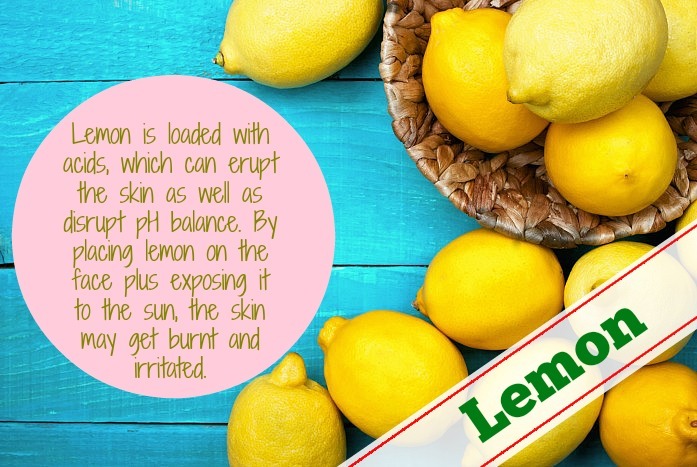 Gorgeois also informed about the disadvantages of lemon juice on the skin. She figured that the pH of this juice is much too low in order to safely slather on the skin, and it may also throw the total pH of the face off balance. Also, she noted it is especially harmful in one homemade salt or sugar scrub, as this scrub can make tiny lacerations on the skin which will only get irritated by this lemon juice. As we know, lemon is loaded with acids, which can erupt the skin as well as disrupt pH balance. By placing lemon on the face plus exposing it to the sun, the skin may get burnt and irritated. Dermatologist Dr. Doris Day told CNN that citrus fruits like lemons can irritate skin because lemons contain a chemical named psoralen, which makes you magnificently sensitive to light. It will activate in about ten to fifteen minutes and takes about 1 day to wear off. So you can actually blister if you do that and you go out in the sun.
See more: 7 Best Minerals & Vitamins For Dry Flaky Skin On The Face & Body In Winter
16. Hot Water
Moisture is an essential step for the skin, but using hot water will lead to eliminating that moisture from it. General speaking, hot showers can eliminate the protective layers and also will soften natural oils, leading to the dry and patchy skin as well. If you have naturally breakouts or oily skin, drying it out will lead to one backlash that puts the oil production into overdrive. Remember that always use lukewarm water as well as keep scalding showers to one minimum, particularly in the winter. Dr. Bank shared that a lot of people like using hot water on their faces since they think it'll help destroy bacteria, however, using hot water can remove the moisture out of the outermost layer of skin.
17. Petroleum Jelly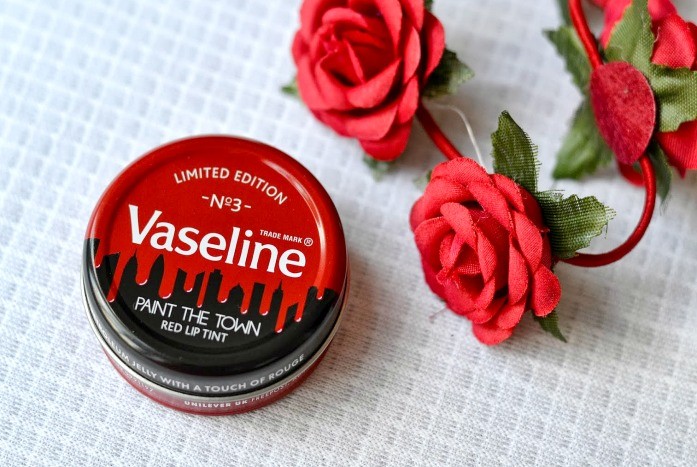 Basically, petroleum jelly can cure cuts and bites, and also moisturize the dry skin, but using it to the face could injury it even more. Even though the jelly moisturizes your skin, it seals in debris and even dirt as well, which could further dry and blemish the skin.


18. Rubbing Alcohol
Rubbing alcohol is also one of the top things you should never put on your face. Alcohol is used broadly for treating infections and wounds as it sterilizes them. However, it shouldn't be used on the face, as it'll drastically dry your skin. Additionally, the DNA of your skin cells could be disappeared, which will lead to damaged cells.
See more: 35 Tips On How To Remove Acne Scars From Face Fast At Home
19. Hydrogen Peroxide
Hydrogen peroxide is also used to inhibit infections from burns and cuts, but it cannot cure facial skin problems, like breakouts or blemishes. Hydrogen peroxide can blister and burn the skin, and can also lead to inflammation and allergic reactions as well. So, you must try keeping this element away from your face.
20. Mint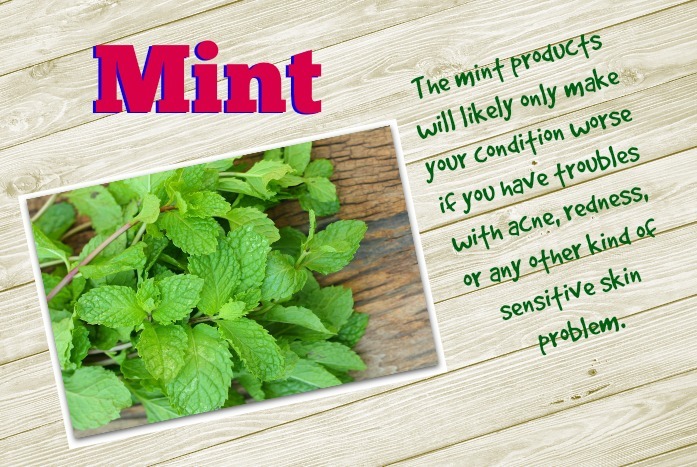 Mint is also one of the main ingredients in many skin care products. However, mint including menthol, spearmint, and peppermint, is actually one skin irritant, according to skin care expert Paul Begoun. The mint products will likely only make your condition worse if you have troubles with acne, redness, or any other kind of sensitive skin problem.
21. Fragrance
Hanah Tetro, a professional aesthetician said that added fragrance, whether synthetic or natural, definitely can work as one super unnecessary allergen to the sensitive skin, although she is not convinced it necessarily leads to long-term damage.
See more: Top 35 Natural Home Remedies For Wrinkles On Face
22. Makeup With Aluminum
The Environmental Working Group indicated that aluminum that is used in eye pencils, eye shadows, and deodorants, has one moderately high neurotoxicity rating. If you are not comfortable with the ingredients having measurable rates of toxicity on the body then it is definitely one to ward off.
23. Daytime Lotions Or Sunscreens With Vitamin A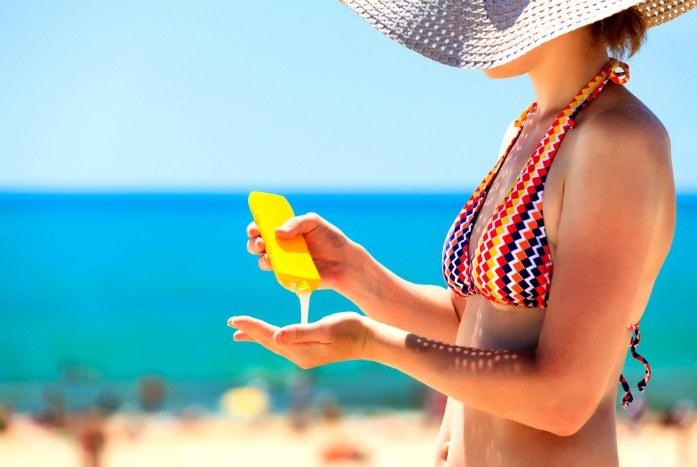 According to the Environmental Working Group, be super careful with some skin care products containing retinol or Vitamin A, as it absolutely makes your skin become more sensitive to the sunlight, and thereby skin cancer. They especially figured to check out for it in foundations and sunscreens.
See more: Top 18 Natural Home Remedies For Staph Infection On Face & Body Skin
To get more about natural cures for other conditions and diseases related to skin, go to our main Skin Care page. This is one list of all the things you should never put on your face. You have to treat your skin carefully and gently, by applying DIY products that must not have any of those ingredients. Hope that this article can help know more some common things you should never put on your face. If you have any question or comment, please leave them below. Also, you can share your experience with us if you know any other things that should not put on the face.
References:
http://www.wisegeek.org/does-toothpaste-get-rid-of-pimples.htm
https://iaspub.epa.gov/tdb/pages/treatment/treatmentOverview.do?treatmentProcessId=-1234021623