If you are one of those who have an oily skin, you are probably wondering that how to apply makeup for an oily skin. The problem, while you make up for your oily skin, is it cannot stay on your skin during the day. It tends to fall off, smudge or lose shine and color. Hence, if you do not opt for the best products for your oily skin, your makeup may look unprofessional and negligent. With this skin kind, you have to notice to choosing qualitative products which are suitable for your specific skin problems. In this article, EffectiveRemedies.com will show you 12 tips on the best makeup for oily skin and acne. This writing is written with information collected from many reliable websites. You can apply any tip and do not worry about its side effects.
12 Tips On The Best Makeup For Oily Skin And Acne
It is not easy to put the makeup on an oily skin, and the problems do not stop there. Oily skin usually causes acne, makes the pores dilate. If your makeup is wrong, these problems may aggravate.
1. Prime Your Skin
We all know primer can help in the better application of the makeup by working as a base. It also works as the protective layer between your skin and the cosmetics, which prevents the makeup from clogging your pores. In addition, it can also ensure that your makeup will last longer. This is considered as the most basic step on how to apply makeup for an oily skin. When you are opting for a primer for your oily skin, you have to make sure that it isn't silicone based because the oily skin has a tendency to be very sensitive. Silicone based products can cause some allergic reactions to your skin, which leads to breakouts. You also choose a primer which contains salicylic acid to help in fighting acne.
2. Best Makeup For Oily Skin And Acne – Makeup Powder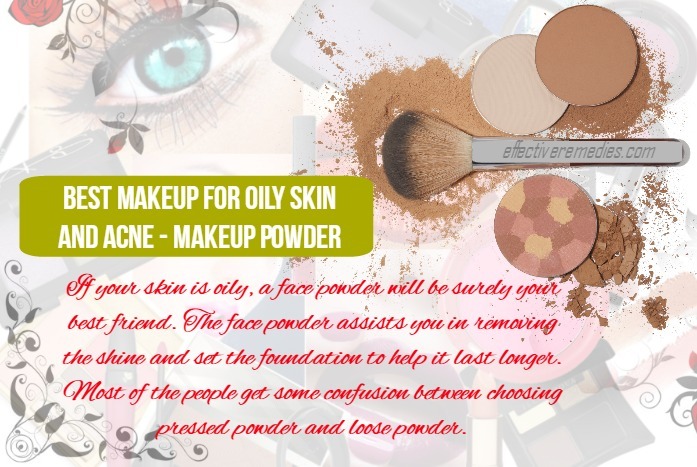 If your skin is oily, a face powder will be surely your best friend. The face powder assists you in removing the shine and set the foundation to help it last longer. Most of the people get some confusion between choosing pressed powder and loose powder. Even though both of them work well on an oily skin, it is recommended that you'd better use loose powder because it can work well as a face powder without making your face oily. On another hand, the pressed powder may be very convenient to bring beside you, however, the oil content in the pressed powder is much higher than in a loose powder.
However, you should not overdo face powder. It seems to be the right thing to do when you use the face powder on your skin. But when you go overboard, it could backfire by making the pores push out much more oil.
EffectiveRemedies Partner Solutions

Ask a Doctor Online and Get Answers in Minutes, Anytime!
Have medical questions? Keep asking questions to a Verified Expert until you get the answer you need.
You'd better apply face powder on areas which are shiny. If you apply too much face powder, let make a makeup sponge wet and blot it over your over-powdered areas.
3. Skin Lining Powder
I am sure that you can already be familiar with kinds of face lining powder helping you to make the makeup layer on the face last longer. For women who have an oily skin, besides using skin lining powder, it is essential to add an anti-gloss cream layer into the T area (nose and eyelid). In this case, many of them even apply the pure aloe Vera gel like a skin lining powder for their eyes and lips as the usual lining cream won't work effectively for their own condition. This is one of the necessary tips in the list of best makeup for oily skin and acne that you should remember.
4. Best Makeup For Oily Skin And Acne – Always Prefer Mineral Makeup
In fact, mineral makeup has big beneficial for oily skin. Because it is made of inorganic minerals as well as is oil free, it can prevent the growth of bacteria, which make it become the ideal makeup for an oily skin. Titanium dioxide and zinc oxide are the main ingredients contained any mineral makeup. Both of these ingredients work as natural sunscreens, which save you from applying the extra layer on the skin. Besides, zinc is also famous for being an antioxidant that may prevent the makeup from oxidizing as well as help it to stay longer.
5. Clean Your Face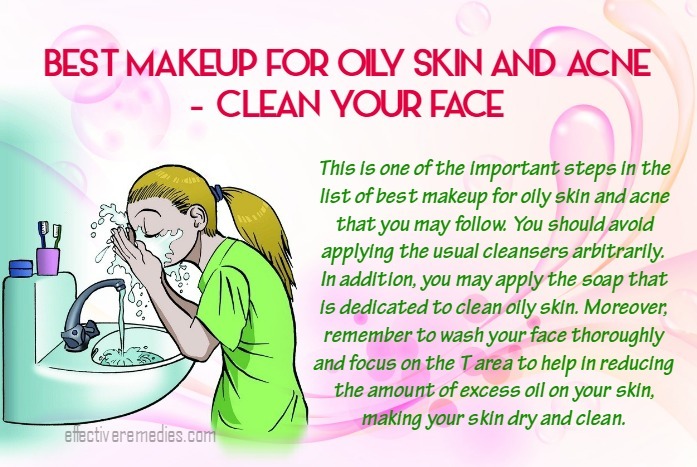 "I'm a big believer in that if you focus on good skin care, you really won't need a lot of makeup – Demi Moore."
This is one of the important steps in the list of best makeup for oily skin and acne that you may follow. You should avoid applying the usual cleansers arbitrarily. In addition, you may apply the soap that is dedicated to clean oily skin. Moreover, remember to wash your face thoroughly and focus on the T area to help in reducing the amount of excess oil on your skin, making your skin dry and clean.
Besides, you should use a cotton piece that is dipped in the pore astringent liquid and rub it over your skin surface.
6. Best Makeup For Oily Skin And Acne – Apply Minimum Makeup Layers
It isn't an ideal base when you wear makeup for an oily skin. Hence, if you try to put multiple makeup layers on your face, it will bound to cake up or melt. You should try to apply minimum makeup layers on the face. For an instant, you can easily minimize an amount of makeup layers that you use by applying a tinted moisturizer that has SPF.
7. Foundation Cream
Looking for a foundation cream may get a little tricky. Most of the foundations can melt off or fade easily as well as require the constant touch up. Hence, the easiest way to solve these issues is to apply a powder based on foundation. This can help to fight off shine as well as doesn't feel heavy on your skin. If you want to apply a liquid foundation, you should choose a mousse foundation or a water-based foundation that like the powder foundation and work really effectively on oily skin. While finding a foundation, you'd better choose words such as noncomedogenic and mattifying.
8. Best Makeup For Oily Skin And Acne – Eyes And Eyebrows
Apply a makeup pencil to help in shaping your eyebrows and then apply powder to rub gently into your skin for making the softness. Particularly with an oily skin, you shouldn't hesitate to draw shaggy as well as little edgy eyebrows. The oily skin is suitable for the neutral colors. They can make your face appear without the feeling of hotness when your skin surface secretes more oil. Hence, you'd better use the brown and copper colors for your eyebrows and stern your eyes to make them look deeper and also naturally beautiful. This is considered as one of the most effective steps in the list of best makeup for oily skin with acne which you should remember to apply.
9. Blush
When you get an oily skin, you are ready to shine all time. Hence, always remember to opt for a matte blush on your skin instead of a shimmer. Also like makeup has a tendency to melt off easily when you own an oily skin, the blush powder tends to help you last longer on your skin than other kinds. In case you really want to use a blush cream, you have to make sure that you set it properly.
10. Best Makeup For Oily Skin And Acne – Protective Your Makeup Layer
Before learning how to get the best makeup for oily skin, you have to remember to protect the first layer of your skin which is the sunscreen layer. Whatever kind of skin that you get, you always want them to be protected in a good condition. Hence, using a sunscreen with spectrum, which will protect your skin from UVA and UVB high; have no oil and light weight.
11. Reduce Excess Oil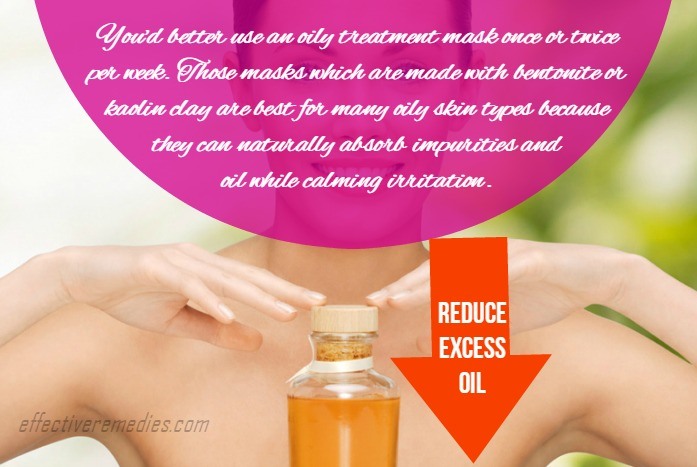 You'd better use an oily treatment mask once or twice per week. Those masks which are made with bentonite or kaolin clay are best for many oily skin types because they can naturally absorb impurities and oil while calming irritation.
You should apply a quarter-sized amount for a natural mask with your fingers. Then you leave it on your skin for 10 to 15 minutes. Finally, you rinse it off with lukewarm water to reduce excess oil effectively.
12. Best Makeup For Oily Skin And Acne – Carry Blotting Papers
One step to save the makeup powder on your oily skin longer is to use an oil blotting paper. This is the last step I want to introduce to you. Blotting paper will absorb all of the excess oil which your skin secretes. This can help your face avoid being begrimed because of the mixture of your skin oil and your makeup layers. After using the oil blotting paper, you may apply the makeup powder into your face again to ensure a natural look.
Recommended articles:
Natural Home Remedies For Oily Skin In Summer 
Makeup For Acne Prone Skin And Scars
Natural Home Remedies For Acne
If you want to know more tips for makeup and skincare, go to our main Skin care page. All above are 12 tips on the best makeup for oily skin and acne. You should try some of them to find the best tip to makeup for your oily and acne skin fast and effectively. If need to ask anything about best makeup for oily skin, you can leave your question below. Also, if you have other tips of best makeup for oily skin and acne, let share them with us.