"I was heavy from a young age and grew up not knowing if I'd see my next meal, or anything other than processed foods we could afford. This leads me to overeat, and eat the foods we could afford, such as ramen noodles, pancakes, spaghetti, and frozen pizza". Lexi Reed lived in Terre Haute, Indiana and reached 485 pounds when 26-year-old. "I knew that if I didn't get my health under control, I might not live to see my 30th birthday," she says.  She made a New Year's resolution to begin reducing her weight. She also set up an Instagram titled @fatgirlfedup to help track her progress and keep herself accountable too. Plus, she shares her weight loss progress and experience on her social channels such as Facebook. She has shed 312 pounds and counting two years later. Here are the five simple tricks to her success.
The 5 Simple Tricks That Helped Me Lose 300 Pounds
1. Every Day Is A Fresh Start
When her progress stalled, or she made mistakes, Reed did not despair. "Small changes eventually add up to big results," she says. She thinks that you do not live in the gym or spend too much money. You need to focus on your daily habits, diet, and moving more; your weight will gradually reduce.
2. It Takes A Village
The crowd that followed Reed on the social channel and that looked to her for inspiration is another major contributor to her success. "When I started documenting my journey, I wasn't looking for a following, but to help just one person—myself," she says. "The fact that I have a million people [1.1 million followers and counting] to help pushes me to live by example every single day."
3. Don't Diet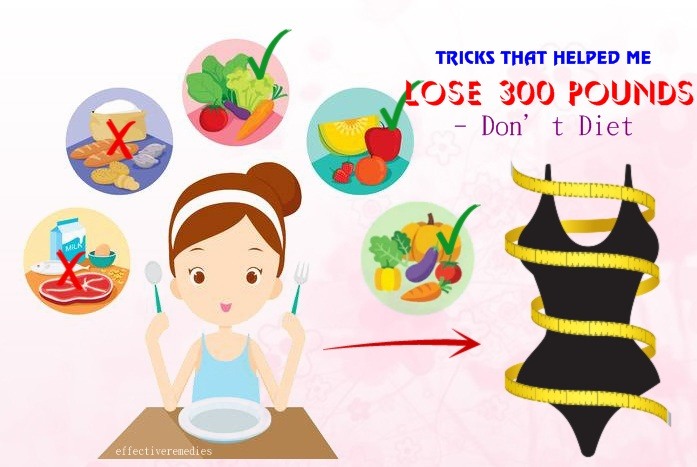 Reed did not follow any meal plan. She just aimed to consume more vegetables, protein, and fewer carbs. Foods that are naturally colorful tend to be rich in fiber, vitamins and minerals, and low in calories and fat. Fill your plate with yellow, red, and green vegetables and salad for minimum fattening potential and maximum nutrients. She often eats salad daily. "I eat salad almost daily as either a snack or a way to get my vegetables in. To be honest, I didn't eat any salad at the beginning of my journey or any vegetables before, and at one point I thought to be healthy meant living off of salad," she says. She took the foods she loved and made healthier versions.
4. Patience Is Paramount
You should remember that change will not happen overnight. "The first place I saw change was in my face, but since I had so much to lose, it wasn't for about a month before I saw results. I just had to remind myself that change takes time and it's a marathon—not a sprint," she says. Reed dropped 224 pounds in the first year of her weight loss journey.
EffectiveRemedies Partner Solutions

Ask a Doctor Online and Get Answers in Minutes, Anytime!
Have medical questions? Keep asking questions to a Verified Expert until you get the answer you need.
5. Change Your Therapy
Reed has to change her relationship with food.  "Previously, I was an emotional eater and loved anything fried. I learned that the gym could be a better form of therapy than food ever made me feel," she explains.
If you are planning to lose fat, you can follow these five tricks of Reed to help achieve your goal. For more other such articles, you can visit our main News & Facts. If you know other ways for weight loss, please share with us in the comment box below.
Note: You may read this article was medically reviewed/ fact checked by Dr. Sarah Brewer  at (Link).