Updated: 11/20/2019
Nowadays, in the context of a lot of diseases due to pollution, bad food, stress, etc. so it is easy to become sick, people are searching for a way to improve their health. Besides having a healthy diet and checking your health regularly, doing exercise is essential. However, not all people are good at playing sports or have enough money to go to the gym center. One simple and not expensive way to do exercise is walking. Walking is suitable for anyone at any age and also can be done anywhere. Walking daily will give you many good health benefits such as reducing stress, improving weight control, life expectancy, stamina and energy, and easing depression. It can also decrease the risk of developing strokes, diabetes, coronary heart disease, bowel cancer, high blood pressure, and osteoporosis. Besides its physical benefits, walking is also useful for your mind, improving learning ability, memory skills, concentration, and ameliorating spirits. It may even help prevent Alzheimer's and dementia. In the article today, we would like to present to you the benefits of walking exercise every day after dinner on your health.  Let's continue reading this article EffectiveRemedies to understand more and start walking immediately.
Top 7 Amazing Benefits Of Walking Exercise Every Day After Dinner On Your Health
1. Aid Weight Loss
Along with a healthy diet, doing exercises can aid weight loss because walking burns the calories. Walking is one of the most common types of exercise. According to a 2009 study conducted with 4,995 men and women, each year, American gains an average about 2.2 pounds during middle age. However, after the 15-year study, people who walk will lose weight than those who do not[1]. Moreover, since 1987, a study asked obese patients to do walking, ride a bike, or swim to lose weight[2]. After 6 months or slightly longer, the women who were told to walk lost 10% of initial weight. Another study in 2012 showed that walking just after a meal makes weight loss process become more effective than waiting one hour after eating before walking[3]. This study also proves that the glucose increases to its maximum at 30–60 minutes after a meal, so we should walk after meals to prevent the glucose level reaching a maximum because once insulin is secreted it can work as an obesity hormone. However, for some people, walking just after a meal can be a reason for fatigue, stomach ache, etc. Thus, it is necessary to ensure that walking after meals does not cause any uncomfortable situations. According to a study in 2015, 50% of obese patients after 8 weeks walking lost an average of 5 pounds[4].
2. Prevent Some Cancers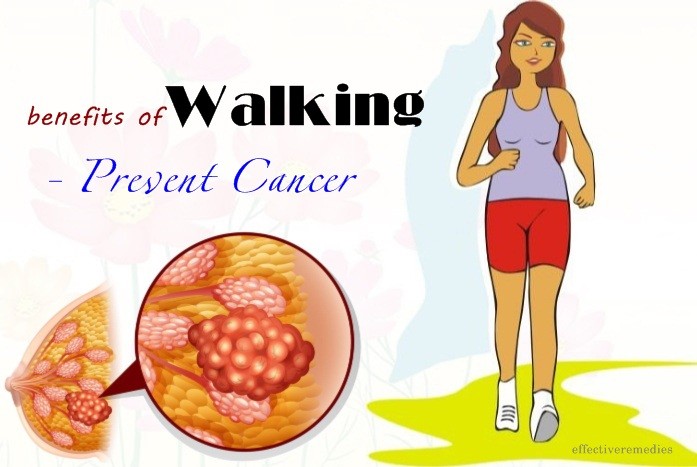 Daily walking is an amazing exercise which may help to prevent cancer. A study in 2015 suggests that running and walking makes our kidney cancer risk lower[5]. According to the University of Texas MD Anderson Cancer Center (MD Anderson), one of the original three comprehensive cancer centers in the United States, walking reduces the risk of breast and endometrial cancers by lowering sex hormone levels in women[6]. To be specific, women who walk for an hour per day may lower the risk of breast cancer by 14%[7]. Specifically, a study in 2013 conducted with breast cancer survivors after diagnosis, survivors who do physical activities have a lower risk of breast cancer mortality[8]. Besides, a large cohort study points out that women after a breast cancer diagnosis who walk 3-5 hours weekly have a lower risk of breast cancer, death from breast cancer, and death from any cause by 40% to 50%[9]. The American Institute for Cancer Research indicates that people who are active will reduce the risk of developing seven cancer types by 20%, in comparison with the least active[10].
3. Improve Heart Health
Walking every day can help you have a good heart. A study in 1997 indicates that walking increases the cardiovascular capacity, which is necessary for the body work and movement in everyday life[11]. Moreover, a study in 2011 shows that walking is beneficial for preventing the primary and secondary cardiovascular disease and recommends the clinicians to ask patients to do physical activities. Furthermore, according to a report, walking lowers the risk of cardiovascular events by 31% and cut the risk of dying by 32% as well[12]. The benefit of lowering the risk of heart failure is also supported in a new University at Buffalo study[13]. According to Michael LaMonte, PhD. the study's lead author and a research associate professor of epidemiology in the UB School of Public Health and Health Professions, there are more and more people after 60 have heart failure, so it is important to encourage people to do physical activities, especially walking that may help reduce the development of heart failure and money for the treatment in an aging society[13].
EffectiveRemedies Partner Solutions

Ask a Doctor Online and Get Answers in Minutes, Anytime!
Have medical questions? Keep asking questions to a Verified Expert until you get the answer you need.
4. Lengthen Life Expectancy
A surprising benefit of walking is lengthening your life. A study in 2013 shows the relationship between daily walking exercise and other walking activity and benefits on not only fighting against any cause of mortality but also lengthening life[14]. Furthermore, American Cancer Society researchers find out that walking helps people live longer[15]. This study states that people walk less than two hours a week have a lower risk of compared with those who do not do any activity. Another study in 2011 conducted with 27 738 participants aged 40–79 years shows that people who walk more than an hour daily may lengthen their life from 40 years old than those who walk less than an hour a day[16]. According to an article published on Organic Consumers Association website, 5,700 older men participated in a study for about 12 years[17]. They got the result which is that people who do 30 minutes of exercise — even light walking — six days per week will reduce 40% of the risk of death. The researchers from the University of Sydney prove that for the people at the age of 60 years and over, walking with average pace helps them reduce 46% of death risk and walking with fast pace reduces the death risk by 53%[18].
5. Prevent Diabetes
If you want to avoid the development of diabetes, it is necessary to stop sitting more and start doing exercising more, such as walking. According to a study in 2012, walking may help fight against the development of type 2 diabetes[19]. Moreover, another study conducted in the same year shows that for people with type 1 diabetes, slow-pace walking may improve glucose after meals[20]. A new study at the George Washington University School of Public Health and Health Services points out that for the older people, just with a fifteen-minute walk after each meal, they may regulate blood sugar levels and have lower their risk of developing type 2 diabetes[21]. The benefit of walking on diabetes also is shown in the findings from the Nurses' Health Study and the Health Professionals Follow-up Study by proving that a half-hour of regular brisk walking reduces 30% of the risk of developing type 2 diabetes[22].
6. Improve Memory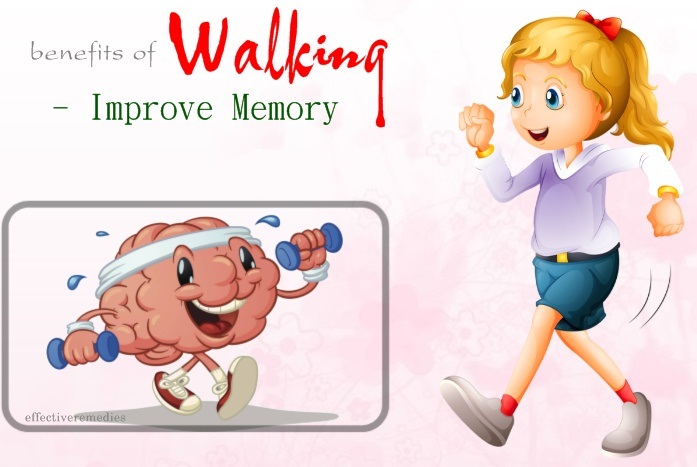 Exercise plays an important role in improving brain health. Exercise reduces insulin resistance, and inflammation, stimulate the release of growth factors in the brain that does harm on the health of brain cells and the growth of new blood vessels in the brain[23]. A study led by Dr. Arthur Kramer at the University of Illinois and Dr. Kirk Erickson at the University of Pittsburgh and supported by NIH's National Institute on Aging (NIA) shows that brisk walking can decrease the size of a brain region related to memory in older adults who are easy to reduce the ability of memory when entering the old age[24]. Furthermore, a study in 2013 indicates that walking improves short-term memory[25].
7. Reduce Stress
Stress is an unavoidable issue in our modern life when we have many things to do and do not have time to relax. Being stressful makes you feel bad and affects badly on the quality of your study and work. Besides focusing on improving physical health, people need to pay more attention to mental health. According to the statistics of the American Psychological Association published in the American Institute of Stress, in 2017, 62% of people are stressed because of the money and 61% of people have stress because of work[26]. An effective way to improve your mental health by reducing anxiety, stress and negative mood is doing exercise. Any kinds of exercise can help control stress. According to a study in 2006, walking is helpful for reducing anxiety and depression[27]. According to an article published in Harvard Medical School, you just need to spend 20 minutes walking to clear the mind and reduce stress[28]. Benefit of walking on helping people reduce stress and relax is also supported by a study in 2017. Therefore, the Anxiety and Depression Association of America advises people to have at least 2,5 hours per week doing moderate-intensity physical activities such as brisk walking and 1,25 hours doing a vigorous-intensity activities like jogging or swimming laps, or you can combine two types[29].
To sum up, according to many studies we mentioned above, it is necessary to start a new good habit which is walking every day to improve the health. Besides, it is crucial for you to have enough sleep, drink enough water, and check your health condition regularly and treat the diseases as fast as possible if you have.
We hope that this article gives you interesting and useful information about the benefits of walking on your health. All content provided is for informational & educational purposes. We recommend you consult a healthcare professional to check your health and have a reasonable diet.
Your comments and questions about our topic today are welcome in the comment box below. Therefore, do not forget to put your opinions on it. Furthermore, if you want to know more about the habits, you should continue or you should avoid, please visit the News & Facts page.
Read more: Best Natural Home Remedies For Morning Sickness For Expectant Mothers. This article was medically reviewed/fact checked by Perpetua Neo (DClinPsy, UCL; MPhil, Cambridge).