Updated: 10/29/2019
The Best Night Fat Burning Recipe That Helps Your Fat Melt Like Crazy
Nowadays, many people have problems with excess weight and find it difficult to lose some. Excess fat around your belly and other parts of the body can lead to the increased risks of type-2 diabetes, hypertension, and cardiovascular disease. In order to be successful in your weight-loss journey without harming your overall health, you need to build up an appropriate diet plan. However, a strict weight-loss diet may be a big challenge for some people as they probably do not have enough patience to pursue or are tempted by unhealthy foods. If you are one of those, then you are in the right place. Today's article will show you a bedtime drink that aids you in fat burning even when you are sleeping, thereby you will quickly reach your goals.
The ingredients of this recipe include lemon juice, Chia seeds, and honey. So how do these things work to melt your fat?
1. Lemon Juice
The prerequisite of losing weight is to keep your body toxin-free and to maintain the proper functioning of the digestive system. Lemon juice is here for these purposes. It not only has detoxification abilities but also encourages the digestive system performs, which in turn enhances the metabolic rate. The high metabolic rate allows the body to burn calories and fat more effectively.
*Please note that Lemon juice can be very irritating for the gastric system in certain conditions, especially if we are facing a high level of acidity present in the stomach. (It can be used safely only by people with no diagnosticated digestive problems whatsoever or with medical pre-approval). 
2. Chia Seeds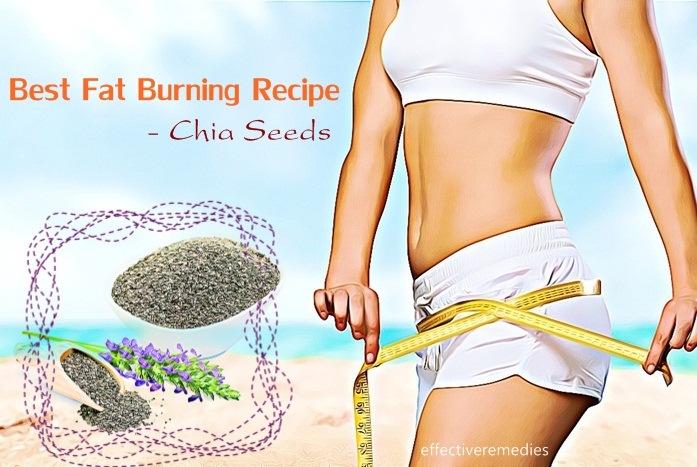 EffectiveRemedies Partner Solutions

Ask a Doctor Online and Get Answers in Minutes, Anytime!
Have medical questions? Keep asking questions to a Verified Expert until you get the answer you need.
Although Chia seeds are somewhat high in calories, their fiber content helps a lot in burning fat and preventing it from accumulation. The results of a recent study showed that people who ate Chia every day lost more weight than those did not, and the waistlines were also smaller.
3. Honey
Honey is a great source of nutrients, minerals, and vitamins that play important roles in reducing the risks of various health issues. When it comes to weight loss, honey stimulates the metabolism, which then speeds up the conversion process of fat to energy, meaning no unused fat stored in your body.
*Honey, can increase the level of insulin in patients with diabetes. So please use medical pre-approval if you have been diagnosticated with diabetes or prediabetes. 
What you need
Juice of 1 lemon

1 tablespoon of Chia seeds

1 tablespoon of honey

1 and a half cups of water
How to do
If you have dried Chia seeds, soak them in cool water for 2 to 3 hours until they get a chewy texture. If you have hydrated ones, you can use them directly.

Mix water, honey, and lemon juice in a glass.

Before sipping, add the seeds and stir well.
We hope this article has satisfied you with one of the best night drinks for weight loss. Feel free to comment below if you have other powerful fat-burning recipes or if you want to share us your story. Visit more at our Superfoods page!
References
Song J. Flavonoid inhibition of sodium-dependent vitamin C transporter 1 (SVCT1) and glucose transporter isoform 2 (GLUT2), intestinal transporters for vitamin C and Glucose. J. Biol. Chem. 2002;277:15252–15260. [

PubMed

] 

Miyake Y. Isolation of C-glucosylflavone from lemon peel and antioxidative activity of flavonoid compounds in lemon fruit. J. Agric. Food Chem. 1997;45:4619–4623. 

Kawai S. Quantification of flavonoid constituents in citrus fruits. J. Agric. Food Chem. 1999;47:3565–3571. [

PubMed

] 

Minato K. Lemon flavonoid, eriocitrin, suppresses exercise-induced oxidative damage in rat liver. Life Sci. 2003;72:1609–1616. [

PubMed

] 

Galati E.M. Biological effects of hesperidin, a citrus flavonoid. (Note I): antiinflammatory and analgesic activity. Farmaco. 1994;40:709–712. [

PubMed

] 

Jung U.J. Effect of citrus flavonoids on lipid metabolism and glucose-regulating enzyme mRNA levels in type-2 diabetic mice. Int. J. Biochem. Cell Biol. 2006;38:1134–1145. [

PubMed

] 

Miyake Y. Difference in plasma metabolite concentration after ingestion of lemon flavonoids and their aglycones in humans. J. Nutr. Sci. Vitaminol. (Tokyo) 2006;52:54–60. [

PubMed

] 

Miyake Y. Isolation of eriocitrin (eriodictyol 7-rutinoside) from lemon fruit (Citrus limon BURM. F.) and its antioxidative activity. Food Sci. Technol. Int. Tokyo. 1997;3:84–89. 

Miyake Y. Metabolism of antioxidant in lemon fruit (citrus limon BURM. f.) by human intestinal bacteria. J. Agric. Food Chem. 1997;45:3738–3742. 

Yamauchi T. The fat-derived hormone adiponectin reverses insulin resistance associated with both lipoatrophy and obesity. Nat. Med. 2001;7:941–946. [

PubMed

]