Updated: 07/26/2019
Evening primrose oil is an excellent solution to many beauty and health issues. It's best known for its capacity to alleviate menopausal symptoms, induce labor, and balance the hormone levels. This oil will bring a lot of benefits to your skin, hair, and health if used regularly. Keep reading this article to discover more about the unexpected health & beauty benefits of evening primrose oil capsules together with its uses and side effects.
22 Health & Beauty Benefits Of Evening Primrose Oil Capsules – Uses & Side Effects
What Is Evening Primrose Oil (EPO)?
EPO is extracted from the seeds of Oenothera biennis or evening primrose plant[1] and is native to the Southwestern Asia, Mediterranean, North America, and Europe. It's also known as Primrose Seed Oil, EPO, Cis-Linoleic Acid, Evening Primrose Seed Oil, Oil of Evening Primrose, Huile de Primrose, Primrose Oil, and more. This oil has a slightly nutty scent and a translucent golden yellow hue. It has numerous popular uses, and it is universally available in dietary supplement form.
I. Health Benefits Of Evening Primrose Oil Capsules And Uses
There are various benefits of evening primrose oil capsules for health, ranging from regulating the mood swings to curbing the blood sugar levels, and so on. Read the information below to understand more.
1. Improve Heart Health
Each year, heart disease kills about 600,000 people in the US[2]. Some people opt for natural remedies such as evening primrose oil (EPO) to help. A study in 2014 on rats showed that evening primrose oil is an anti-inflammatory agent, and it assists in reducing blood cholesterol[3]. This oil reduces cholesterol and blood pressure, which, in turn, maintains heart health. It additionally protects the body against stroke and heart diseases by decreasing the prevalence of blood clots. For this treatment, take around 10 to 30 ml of EPO for four months to improve heart health. For proper dosage, consult a doctor.
2. Minimize Breast Pain

Taking EPO may help to relieve breast pain. As a study in 2010, the gamma-linolenic acid present in EPO may help soother inflammation and prevent prostaglandins causing cyclical breast pain[4]. This study also found that using evening primrose oil and vitamin E every day for six months lowered the severity of cyclical breast pain. For this purpose, you can take about 2.4 ml or 1 to 3g of EPO every day.
EffectiveRemedies Partner Solutions

Ask a Doctor Online and Get Answers in Minutes, Anytime!
Have medical questions? Keep asking questions to a Verified Expert until you get the answer you need.
3. Control Diabetes
Evening primrose oil has been shown to lower blood sugar levels in diabetic animals and humans[5]. It is excellent for preventing the common symptoms and complications of diabetes. It helps alleviate nerve pain and inhibit nerve damage by lowering the tingling and numbness thanks to its gamma-linolenic acid. According to a 1990 study, supplementing with GLA improved parameters in mild diabetic neuropathy[6], consisting of hot and cold thresholds, tendon reflexes, sensation, and muscle strength. Apart from that, it helps to decrease blood pressure[7], as it acts as a vasodilator.
4. Manage Osteoporosis
Regular consumption of evening primrose oil will help reduce the risk of fractures in people with osteoporosis. It may help improve bone mineral density that, in turn, makes your bones healthier and stronger[8]. According to several studies, the gamma-linolenic acid found in evening primrose oil is potent for managing osteoporosis.
5. Treat Raynaud's Phenomenon & Scleroderma
Scleroderma[9] is a rare, autoimmune condition making the skin thick and hard. This usually occurs when our immune system doesn't function at its best. It sometimes causes the blood vessels to opaque, which leads to Raynaud's phenomenon. People suffering from this phenomenon often feel numbness in their toes and fingers. EPO is one of the powerful ingredients for scleroderma[10] & Raynaud's phenomenon treatment. The oil is full of omega-6 fatty acids, which keeps the fingers and toes warm, therefore helping to protect them.
6. Battle PMS & Menopausal Symptoms
According to a study, evening primrose oil is rich in omega-6 fatty acids, which are beneficial for treating menopausal & premenstrual syndrome (PMS)[11]. When a female experience PMS or menopause, she suffers from symptoms such as breast tenderness, irritability, acne, or bloating. Getting enough of omega-6 fatty acids such as gamma-linolenic acid (GLA) and linoleic acid (LA) will aid in balancing the overall hormone levels. EPO may also reduce and treat hot flashes[12], a side effect of menopause. Try about 3 – 4 g of EPO daily to combat the problem of PMS and hot flashes.
7. Reduce Alcohol Withdrawal Symptoms

EPO is an ideal treatment for alcohol withdrawal symptoms removal. As we mentioned earlier, this oil is loaded with the GLA that helps to produce prostaglandin E, one chemical in the brain helping fight alcohol withdrawal symptoms. Rather than that, this chemical enhances the overall functioning of the nervous system and liver[13].
8. Improve Fertility
Using EPO is a natural way to increase the chances of conception, as this oil is full of the GLA that increases the production of cervical mucus of the body[14]. Besides, it is also packed with essential fatty acids that may benefit fertility. According to one study on animals, dosing both female and male blue foxes[15] with evening primrose oil during the mating season may help increase litter size.
9. Treat Rheumatoid Arthritis (RA)
Rheumatoid arthritis is an autoimmune, inflammatory condition affecting the small joints in your feet and hands[16]. This condition is caused due to a combination of environmental, genetic, and hormonal factors. A few studies indicate that EPO may relieve specific symptoms of rheumatoid arthritis[17].  For the treatment of rheumatoid arthritis, take between 540 mg and 2.8 g of EPO daily in divided doses for around six months.
10. Anti-Inflammatory Agents
The omega-6 fatty acids are essential fatty acids. Your body can't produce them by itself, so you must get them through taking supplements or diet. Evening primrose oil capsules are a powerhouse of fatty acids and gamma-linolenic acid (GLA). The GLA helps lower inflammation and doesn't have any side effects related to anti-inflammatory drugs. That is the reason why evening primrose oil is useful at treating eczema[18] and rheumatoid arthritis
11. Induce Labor
Evening primrose oil has been used by midwives to prepare the cervix for labor[19] for centuries. The presence of GLA in this oil may trigger a prostaglandin response causing the uterus to thin. Evening primrose oil should be avoided until the last stages of pregnancy because its GLA increases uterine muscle contractions.
II. Beauty Benefits Of Evening Primrose Oil Capsules And Uses
A. For Skin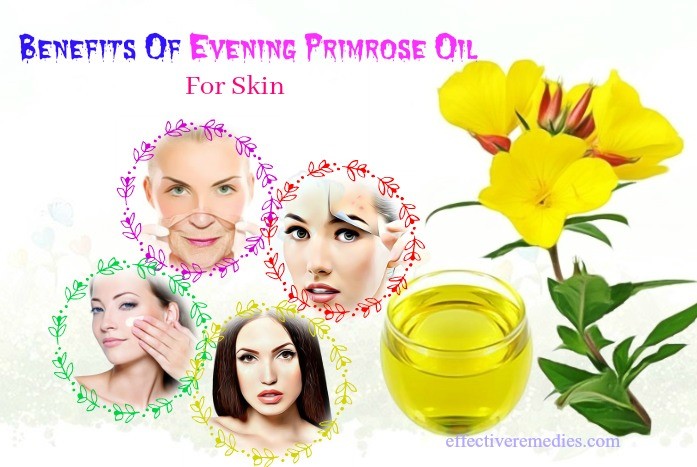 When applied topically, evening primrose oil offers a healthy glow to your body and face. Plus, it helps prevent and battle skin problems such as acne, rashes, inflammation, dark pigmentation, and dry skin, etc. Let's check out!
12. Enhance Skin Health
Enhancing the skin's overall health is one of the most important beauty benefits of evening primrose oil[20]. This oil is an excellent moisturizer. It makes your skin soft while providing it with essential fats and nutrients, making the skin look radiant and youthful . This oil also comes with anti-inflammatory properties that work wonders in easing redness, rashes, and swelling on the skin. All you need to do is mixing evening primrose oil with shea butter in equal amounts and apply to your skin nightly before sleeping. Every morning, you'll get up with beautiful and healthy skin
13. Remove Acne
EPO is known for its ability to treat imbalance hormone in the body, thus helping treat acne and breakouts[21] on your face. You apply about 2 drops of this oil to the face daily to help decrease inflammation, minimize the size of pimples and acne, enhance the healing process, and prevent acne scars from forming. Your spots will start to disappear faster than usual. You can also supply your body with essential nutrients to remove acne by taking 500 mg of evening primrose capsules twice a day. Alternatively, make a face mask by mixing one teaspoon of EPO, a ¼ teaspoon of ground coffee, one tablespoon of organic honey, and a half banana. Apply to your affected areas and after half an hour, remove it. Use this treatment once a week.
14. Lighten Skin
Are you seeking natural remedies to lighten skin? Evening primrose oil is an ideal remedy you should consider. It may help lighten hyperpigmentation skin and dark spots. Moreover, it limits the damage of ultraviolet light to the skin[22]. You need to blend two tablespoons each of EPO and argan oil. Then, add eight drops each of lavender oil and lemon oil along with 5 – 6 drops of carrot seed oil. Then, combine all the things in a bottle. Start applying to the skin nightly for lightening skin.
15. Act As A Moisturizer
Evening primrose oil is an excellent moisturizer[23]. It gives essential fatty acids to nourish the skin. It especially leaves the skin feeling youthful and supple. For a light face & body moisturizing lotion, you whip ¼ cup each of evening primrose oil and shea butter with two teaspoons of lavender hydrosol. Then, add five drops of any essential oil of your choice. After that, store it a glass jar. Use as needed.
16. Anti-Aging Properties
EPO is an excellent oil for its anti-aging effects. It exhibits ultra-moisturizing effects, which may help keep your skin smooth, soft, and supple. Not only that, it prevents premature aging[24] by maintaining the normal function of the skin owing to its vitamins and other nutrients. Moreover, its potent antioxidant properties assist in preventing the damage of free radicals[25], which, in turn, helps to inhibit the formation of fine lines and wrinkles. Alternatively, add two tablespoons of argan oil, one teaspoon of watermelon seed oil, one teaspoon of evening primrose oil, six drops of frankincense essential oil, and five drops each of lavender and geranium essential oils to a 4 oz. Amber glass dropper bottle. Then massage two drops of this mixture on the face before hitting the bed.
17. Lighten Dark Spots
EPO is useful for lightening the skin and reducing hyperpigmentation or any dark spot[26]. To get rid of dark spots, consume this oil twice daily in the form of capsules. You can also mix argan oil and evening primrose oil in equal amounts. To this mixture, add a few drops of lemon juice and apply to your affected regions nightly to treat unwanted dark spots and uneven skin tone.
18. Reduce Redness
EPO is highly helpful for soothing redness on the skin. It mainly helps to ease soreness, swelling, and inflammation on the skin thanks to the anti-inflammatory properties[27]. Moreover, it is beneficial for calming rashes, hives, redness, and itching that are caused by psoriasis, eczema, or other skin conditions.
19. Ease Eczema
Taking EPO capsules works well on treating eczema[28], an inflammatory skin condition. For this treatment, you can choose one to four EPO capsules twice daily for 12 weeks. For topical application, apply 1 ml of 20 percent evening primrose oil to the skin twice daily in four months.
20. Nourish Nails
EPO is abundant in the GLA and LA (fatty acids), which may nourish the nails[29]. It also prevents the nails from cracking. All you need to do is taking several drops of EPO and rub it on your fingernails and toenails nightly.
B. For Hair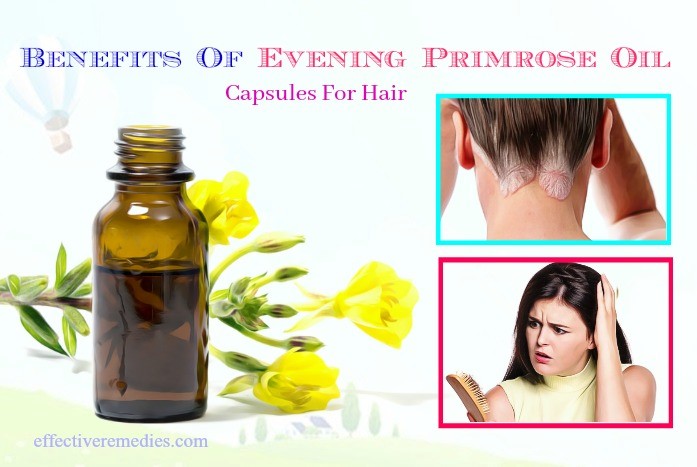 EPO contains beneficial ingredients that aid in preventing hair loss, reducing graying, promoting hair growth, and nourishing your scalp.
21. Treat Hair Loss
As we know, hormones are responsible for controlling hair loss in both women and men. Hair loss in women is commonly linked to stress, thyroid problems, and hormone imbalance[30]. In men, hair loss is caused due to the male androgen hormone 5α-Dihydrotestosterone (DHT)[31]. High DHT levels decrease the follicle lifespan, which in turn lead to male pattern baldness. EPO may fight dandruff and scalp conditions, which often cause hair fall owing to its anti-inflammatory properties. It also has the gamma-linolenic acid that helps enhance hair regeneration and regrowth[32]. Along with that, it helps to reinforce the scalp defense, which in turn prevents damage. To help prevent and lower hair loss in men and women, take evening primrose supplements. You can also heat some evening primrose oil for thirty seconds. Start applying it to the scalp and lightly massage for fifteen minutes. Leave this oil for an additional half an hour. Lastly, wash your hair and scalp with a mild shampoo and pat dry. Follow it thrice a week.
22. Fight Scalp-Related Problems
Evening primrose oil works wonders in fighting scalp related problems such as itchiness, redness, and dandruff. Regular application of EPO will help promote the quality of scalp[33] and hair because it supplies nourishment to the hair roots.
Side Effects Of Evening Primrose Oil Capsules
During pregnancy, taking EPO is possibly unsafe[34]. It might increase the risk of pregnancy complications. If you are pregnant, don't use this oil. During breastfeeding, taking evening primrose oil is likely safe. But it is best to consult your healthcare provider first. It may sometimes cause some mild side effects such as nausea, diarrhea, upset stomach, and headache[35]. If EPO is consumed or used in excess, there may be a few severe side effects, including:
Hypoglycemia: Using EPO frequently may result in hypoglycemia in diabetic patients.

Low Blood Pressure: EPO is known to reduce blood pressure, but you need to consult your physician before using the oil if you're taking blood pressure medication.

Bleeding Disorders: EPO may raise the chance of bleeding during and after surgery. Stop using this oil for at least two weeks before your scheduled surgery.

Neurological Problems: EPO may cause migraines, particularly in people with epilepsy.

Allergies: Some people may be allergic to evening primrose oil. Common allergic symptoms include rashes, nausea, skin irritation, vomiting, irritability, and abdominal pain.
In this article, you already knew the information associated with evening primrose oil capsules. This magical oil is regarded as one of the superfoods you should include in your diet. Have you ever used it? Do you know any other health and beauty benefits of evening primrose oil? Let us and other readers know by leaving a comment in the box below. All of the content provided in this article is for informational & educational purposes. We recommend you consult a healthcare professional to determine which method is appropriate for you.