Updated: 09/13/2019
Nowadays, high blood pressure or called hypertension is a quite common disease or medical condition and tends to develop. The normal blood pressure is 120/80, and for an adult, it should be under 140/90. This disease is a serious health problem because it may be a life-threatening disease if it is not controlled. Hypertension can lead to heart disease, kidney failure, and strokes. Common reasons or contributing factors of hypertension are obesity, genetic factors, high salt intake, excessive drinking, and lack of aerobic exercise, pain relievers, kidney disease, stress, birth control pills, and adrenal disease. In this writing, you will know top 7 natural home remedies for high blood pressure control without any side effect. While we are listing the scientific evidence, the recipes we've focused on are traditional home remedies so proceed with caution depending on your blood pressure status. Always consult your doctor and take your blood pressure regularly to know if a remedy is working for you.
1. Fresh Celery Juice
Unlike hypertension reducing drugs, celery (or called apium graveolens) and its seed extracts can naturally and safely lower the high level of your blood pressure significantly without any side effect[1]. According to a recent study, an extract of celery seeds of dosage of 150mg a day can significantly reduce both systolic and diastolic blood pressure[2]. Celery seed extract and celery juice can be useful for controlling high blood pressure.
Way 1:
You will need:
Directions you can follow:
EffectiveRemedies Partner Solutions

Ask a Doctor Online and Get Answers in Minutes, Anytime!
Have medical questions? Keep asking questions to a Verified Expert until you get the answer you need.
Take equal quantities of honey and celery juice.

Stir it well and you have a cup of juice that can lower the high level of blood pressure.

Drink this juice for about 3 times per day for at least one week and this will help you to reduce your hypertension.

After one week, you can reduce the amount of this juice that you take every day.

You can also mix this fresh celery juice with some vinegar to get quick relief from hypertension and other health problems.
Way 2:
You will need:
1 stalk of celery

1 glass of water
Directions:
Take the stalk of celery and then you can consume them along with water.

Do this process every day to reduce your hypertension.

Or if you like eating this celery in the raw form, you can simply chew this throughout the day.
2. Basil Leaves
Ocimum basilicum or commonly called basil is another effective solution for high blood pressure including systolic and diastolic types[3]. The recommended dosage of consumption of basil leaf extract is 100-400mg/kg to reduce the blood pressure[4].
Way 1:
You will need:
Directions:
Take some fresh basil leaves and then you crush them finely to extract the juice.

Take a glass of water and add this herbal juice to it.

Stir it well.

Drink this concoction.

Take it regularly to get relief from hypertension.
Way 2:
You will need:
Dried basil leaves (50g dry extract per kg)

1 cup of hot water
Directions:
Take some dried basil leaves and then you add this to a clean cup.

Pour the hot water over it.

Let it steep for a few minutes and then you strain this tea into another cup.

Drink this tea regularly to maintain the proper levels of your blood pressure.
Way 3:
You will need:
4 leaves of basil

2 leaves of Indian lilac

4 tablespoons of water
Directions:
Take the fresh basil leaves and Indian lilac leaves.

Add the water to them and grind finely to make a thin paste.

Take the ground leaves out and consume it in the morning when your stomach is empty.

Then, you can drink a glass of water.

Continue doing this process every day to get complete relief from hypertension.
3. Ginger – Cardamom Tea
According to a 2009 study in Indian, if you consume a teaspoon of cardamom powder every day for a few weeks, it can help you to lower the high levels of your blood pressure[5].
Ginger has been used for its various health benefits for many centuries in Indian and Asian cultures. It helps to prevent heart conditions, such as reducing blood pressure, preventing blood clots, and lowering cholesterol. It also reduces bad cholesterol levels by preventing plaque accumulation on arterial walls, which can result in increased blood pressure.
Besides, ginger may work as a blood thinner to prevent blood clots[7]. Blood clots are responsible for preventing adequate blood flow to your body, which results in high blood pressure. Preventing the formation of blood clots can help to reduce the risk of stroke or a heart attack.
You will need:
Water – ½ cup

Honey – 2 to 3 teaspoons

Cardamom pods – 1 teaspoon (or 3g of cardamom powder in two divided doses for 12 weeks[5])

Ginger powder – ½ teaspoon

Or minced fresh ginger – 2 teaspoons

Cinnamon powder – 1 teaspoon

1 tea bag

Milk – ½ cup

Mortar and pestle
Directions you can follow:
Crush the cardamom pods to extract the oil. You do not have to grind them finely.

Combine all the above ingredients except for honey in a saucepan.

Bring to a boil and then you allow it to simmer for about 6 to 9 minutes until it turns to a caramel brown color.

Stir it with honey and strain it into a clean mug and enjoy it.

Drink this solution for about 1 to 2 times per day to relieve your hypertension condition.
4. Garlic
Several studies have proved that garlic is used for reducing hypertension condition effectively. Both cooked and raw garlic aid in controlling hypertension and reducing cholesterol levels. It can also stimulate the production of hydrogen sulfide and nitric oxide. Therefore, it will help blood vessels to be relaxed.
This herb also contains blood thinning properties that make it great for overall cardiac health[9]. Besides, it is a natural diuretic[10], which means it can force out excess water and sodium from your body, and into the urine. This effect helps to reduce the overworking of your heart and lower blood pressure.
Way 1:
You will need:
Garlic cloves (a variety of dosing from 3 g of fresh garlic or 2.5 mg allicin up to concentrations of aged garlic extract (10 mL/day, containing 14.7 mg S-allylcysteine have been safe and effective[8])

1 cup of milk
Directions:
Take some cloves of garlic and then you can use your hands to crush them finely.

Eat these cloves of garlic to treat your blood pressure problem.

If you cannot consume raw garlic or if you have any burning sensations, you can mix these garlic cloves with a cup of milk.

Stir it well.

Take this milk regularly to get rid of your hypertension symptoms and increase the function of your heart.
Way 2: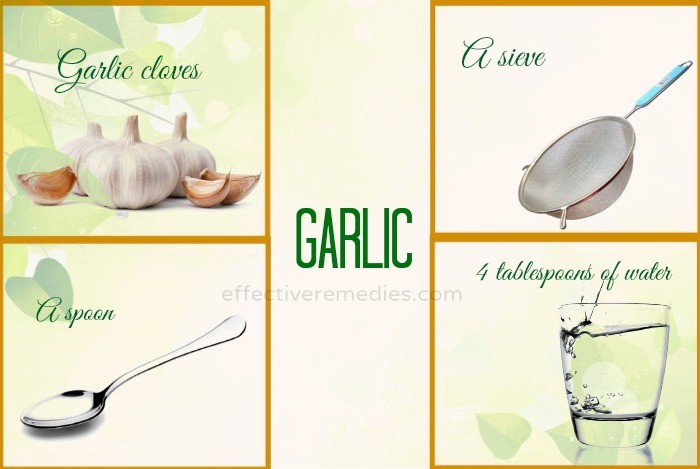 You will need:
Garlic cloves

4 tablespoons of water

A sieve

A spoon
Directions:
Take a few cloves of garlic and you crush them.

Extract the garlic juice by putting them on a sieve and pressing them with the help of a spoon.

Take 5 to 6 drops of the juice of garlic and you add this to water.

Stir it well and consume this to get instant relief from your hypertension problem.

To get the best results, you should drink this water for at least two times per day until you get relief from hypertension symptoms completely.
5. Hawthorn Berry
Hawthorn is rich in flavonoids that are commonly called oligomeric procyanidins and quercetin. According to some studies, flavonoids can be used for treating various kinds of heart diseases that include arrhythmia, palpitations, regulate glucose metabolism, improve the capillaries function, and reduce arterial blood pressure and the risk of developing hypertension[11] [12].
You will need:
Hawthorn berry powder – 4 tablespoons (240 mg per day to 1800 mg per day)

Cinnamon powder – ½ to 1 tablespoon

Cocoa or carob powder

Raw honey

Water
Directions:
Pick up a clean bowl and put the hawthorn, and cinnamon powder into it.

Mix them together.

Add a sufficient amount of honey and water to make a paste.

Thicken this mixture with carob powder or cocoa powder until it turns into a dough which you can roll into small balls that are not bigger than your index finger.

Put these balls on a cookie sheet.

Allow them to be dried at a low temperature in an oven (under 150 degrees Fahrenheit).

Store it indefinitely in a clean glass jar in a cool place and out of direct sunlight.

Consume it regularly to get rid of the high levels of blood pressure.
6. Cat's Claw Decoction
Cat's Claw (or Uncaria tomentosa) has been used for a long time for lowering blood pressure[1]. It can dilate the blood vessels (or known as vasodilation) and thereby lower the blood pressure by letting blood flow through more easily. This herb has flavanols and tannins[13], which are beneficial for managing your blood pressure.
You will need:
Dried herb – 1 to 2 tablespoons

Cold water – 1 to 2 cups

Lemon or honey to taste
Directions
Take a small saucepan and put the herb and cold water in it.

Heat it.

Cover and allow it to simmer for about 40 to 45 minutes.

Add more or less water depending on the way you want this tea to be (strong or weak tea).

Strain it and add lemon or honey if desired.

Consume this decoction for one time per day to get relief from hypertension problem.
Precaution: You have to make sure that the name of cat's claw must definitely match its scientific name (there are some other plants that are also known as cat's claw). In addition, pregnant women should avoid this herb.
7. Lemon
Lemon is well known for its high vitamin C content that will help in lowering the ability to get a heart failure, especially when you drink this lemon juice regularly. More lemon juice ingested, the lower the systolic blood pressure[14]. Vitamin C is an antioxidant that can effectively neutralize the harmful effects that are caused by the free radicals in your blood and heart[15].
Ingredients:
Half a lemon

1 glass of warm water

Lemon squeezer
Directions:
Take half a lemon and use a lemon squeezer to extract its juice.

Add this juice to warm water and stir it well.

Drink this water in the morning on an empty stomach to lower your blood pressure and maintain the proper levels of blood pressure in your body.

Follow this process every day in the morning, especially, you do not add any sugar or salt to it. It will definitely help you treat hypertension for good.
If you want to know more about natural, home remedies for other diseases and conditions go to our main Home Remedies page. The article is only for informational purposes, thus, you should meet your doctor to get advice before applying any remedy.