There are more than a million of new cases of genital warts diagnosed yearly in the US, and many cases aren't diagnosed, as per the Journal of Clinical & Aesthetic Dermatology. So, you aren't alone if you suffer from genital warts. This condition is very common in both women and men. For the treatment of genital warts, it is necessary for you to check with your doctor. You can also treat genital warts at home naturally. Keep reading to discover the best home remedies for genital warts in males and females.
21 Most Effective Home Remedies For Genital Warts In Males & Females
I. Most Effective Home Remedies For Genital Warts
There are several OTC and prescribed medicines that are useful for treating genital warts. You can also try a few inexpensive home remedies for genital warts. They work well for both women and men. Try them right now!
1. Tea Tree Oil
How Does It Work
Tea tree oil is effective for treating various skin infections including genital warts because it exhibits powerful antimicrobial compounds. It is also beneficial for killing fungus and other organisms. It also exhibits antiseptic and antiviral properties that aid in removing the virus causing this condition.
You Will Need
Tea tree oil – 4 drops

Olive oil – 1 drop
How To Do
EffectiveRemedies Partner Solutions

Ask a Doctor Online and Get Answers in Minutes, Anytime!
Have medical questions? Keep asking questions to a Verified Expert until you get the answer you need.
Just mix the tea tree oil with the olive oil. Apply the oil mixture directly to your affected regions. Redo this process a few times a day until the symptoms subside. Alternatively, you can mix the tea tree oil in your bathwater and then soak in the solution to attain the advantages throughout your body. Follow twice a day.
Precautions
A few people are allergic to this oil, so do a patch test on your arm first before using it. Make sure to dilute this oil with a carrier oil since its potency is strong, so it can result in skin irritation, particularly when applied to sensitive regions like your genitals.
2. Apple Cider Vinegar
How Does It Work
Apple cider vinegar is helpful for drying up warts and killing the darned virus. It consists of strong antimicrobial properties, which are effective against warts. The acetic acid in it can kill certain viruses and bacteria on contact. According to a research, the acid is effective in destroying the HPV virus. Plus, the acidic properties of ACV are perfect for burning the wart affected skin that eventually causes the wart to fall off.
You Will Need
Apple cider vinegar

A cotton ball
How To Do
Firstly, moisten the cotton ball in some ACV and later apply it to your warts. Use adhesive tape to hold this cotton ball in place. Wait for 2-3 hours before washing the area with lukewarm water. Repeat the process after half an hour. Follow the treatment twice to thrice a day for several days.
Precautions
Avoid applying apple cider vinegar to any open wounds and bruised skin.
3. Castor Oil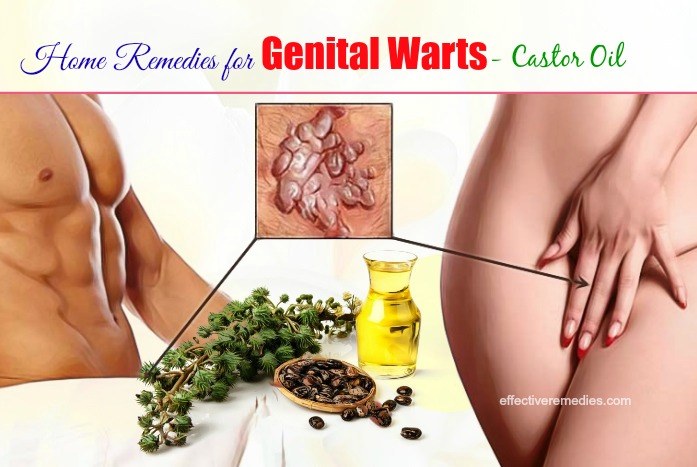 How Does It Work
Castor oil has been used for the treatment of different skin problems centuries ago. It comprises multiple complex compounds which are beneficial for treating genital warts. It possesses ricinoleic acid, which contains anti-inflammatory and antiviral properties that are helpful in the treatment of genital warts.
You Will Need
Cold-pressed castor oil

A cotton ball
How To Do
Soak the cotton ball in some castor oil and start placing it over your warts. Use tape to hold it in place and keep it overnight. The next day, remove the cotton ball and wash with warm water. Lightly exfoliate the area with the aid of a washcloth or loofah sponge to fade away dead skin cells. For best results, follow it daily.
Precautions
Perform a patch test before using castor oil. If you're allergic to castor oil, avoid using it.
4. Garlic
How Does It Work
The allicin in garlic contains the strong antimicrobial properties that can destroy many pathogens, including viruses. It additionally owns strong antiviral properties making it an excellent genital warts remover. Besides, it consists of other compounds that enhance functions in large intestine and liver that accelerates general detoxification in your body.
You Will Need
Garlic cloves – a few

A bandage
How To Do
Firstly, crush the cloves of garlic to get a fine paste. Apply the paste to the affected area and cover with the bandage. Keep it on for around 1-2 hours and wash the area by using warm water after you remove the bandage. It's best to reapply it twice or thrice per day until the condition completely disappears.
Precautions
Application of garlic can cause a burning sensation. Avoid it and try other methods if you can't withstand it.
5. Green Tea
How Does It Work
Green tea contains an energizing flavor and improves the metabolism of a person as well. It can also encourage a person's overall wellness thanks to its powerful antioxidants. In addition to this, green tea has been helpful in eliminating anal and genital warts.
You Will Need
Green tea leaves

Water

A pot
How To Do
Boil some water in the pot at first and next add several green tea leaves. Leave it to simmer for approximately fifteen minutes and after that, turn off the flame. Allow the tea to stay for another five minutes. Strain it and consume twice a day for quick relief. You can also apply green tea bags to the affected areas to battle the infection.
Precautions
Eczema and hives are the most common allergies related to green tea consumption. A person can undergo a tingling sensation on the lips, tongue, face, or in the throat.
6. Aloe Vera
How Does It Work
Aloe vera has been used to treat various skin ailments for ages. It comprises different phytochemicals, which can fight against medical conditions such as herpes, colitis, skin infections, diabetes & genital warts, among others. This plant is usually used to treat genital warts owing to natural healing agents. It further has anti-inflammatory and antiviral properties. Moreover, it can calm the skin and alleviate itching.
You Will Need
Aloe vera leaves

A bandage
How To Do
Get some aloe vera leaves and break them to extract their gel. Start applying this gel to your warts and secure with the bandage. Keep this application overnight and rinse it off the next morning. Do the process for 2-3 weeks.
Precautions
If you're allergic to aloe vera or latex, it may lead to some itching or irritation. Thus, always perform a patch test first.
7. Witch Hazel
How Does It Work
Witch hazel is a powerful herb, which can treat genital warts. It is an astringent nature, making an ideal solution for this condition because it helps to make the undesirable tissues to become smaller and then fall off. You can use this herb in the form of cream or gel.
You Will Need
Witch hazel

A clean dry cloth
How To Do
Apply some witch hazel to your warts and let it work on for ten minutes. Use the clean dry cloth to remove the excess solution. Carry out this procedure twice a day for about 1-2 weeks.
Precautions
Dilute witch hazel with some distilled water before applying it to help prevent the skin from drying out.
8. Banana Peel

How Does It Work
Eating bananas can enhance your immunity, thereby helping to battle the virus causing genital warts. Because they contain enzymes, banana peels help cure infections effectively.
You Will Need
A banana peel

A bandage or tape
How To Do
Take the banana peel at first and later cut it into small portions. Place the inside of the peel on your warts. Secure it by using the bandage or tape. Keep the application on all night and the next morning, remove it. Repeat this remedy every day for several weeks or until you get rid of warts.
Precautions
Though it's natural, banana peel can't be suitable for every type of skin. Perform a patch test on a tiny part of the affected region for few minutes. Avoid using it if it's causing redness or irritation.
9. Grapefruit Seed Extract
How Does It Work
Grapefruits are abundant in antioxidants because they hold vitamins C and E. Grapefruits can also strengthen a person's mental health, energy, and immune system. Along with that, the fruit has active disinfectant effects. Available as capsules and in liquid form, the extract accelerates the immune function, murdering the HPV and inhibiting warts outbreaks.
You Will Need
Grapefruit seed extract – 1 drop

A bandage
How To Do
Take the grapefruit seed extract at first and later pour it over your wart region. Cover it with the bandage and leave it on an entire night. Use this remedy for about 15 days. Your warts will become white and fall off.
Precautions
Taking grapefruit seed extract can cause allergic reactions such as tingling or swelling in your throat or mouth, swelling in the face or hands, trouble breathing, chest tightness, and hives or rash.
10. Pineapple Juice
How Does It Work
Bromelain is an enzyme found in pineapples. This enzyme is medically used to cope with inflammatory skin conditions including acne, eczema, dermatitis, and psoriasis. Pineapple juice is helpful in breaking down genital warts. In addition to this, it is flooded with manganese, which helps to avoid scars when warts are treated.
You Will Need
A cotton swab

Some fresh pineapple pieces
How To Do
Take the fresh pineapple pieces and squeeze out the juice. Moisten the cotton swab with the juice and then place it on your warts. Allow the swab to be placed on it for approximately 10 minutes and wipe off the juice afterward. Repeat this home cure 2 to 3 times per day and you will fade away genital warts in no time.
Precautions
One should avoid drinking pineapple juice during pregnancy period because it causes the contraction of the uterus, leading to miscarriage. Plus, uterine contraction may result in increased menstrual flow.
11. Potatoes
How Does It Work
Potatoes are considered as one of the best home remedies for genital warts in males and females. Potatoes are nutritious and compose of vitamin C, antioxidants, and potassium. Plus, the enzymes present in them are potent in working and healing genital warts.
You Will Need
How To Do
Get the potatoes and cut them into thick slices. Start rubbing these slices on your genital warts. You should repeat this easy method a few times per day and continue following it for around two weeks.
Precautions
Potatoes are considered safe when applied to the skin. Avoid eating green potatoes because they contain toxic compounds such as alpha-solanine and alpha-chaconine, which are dangerous for the development of the fetus, and may lead to birth defects such as Spina Bifida.
12. Onions
How Does It Work
Onions are a powerful antimicrobial effect that helps to decrease the spread of the virus causing genital warts.  Also, it is helpful for enhancing better blood flow and boosting up the healing process.
You Will Need
Onions – 1

Salt – one teaspoon
How To Do
Take the onions and cut them into slices. Then, sprinkle the salt over them and cover it. After that, allow it to sit overnight. Put the onion slices in a sieve the next morning and extract the juice by pressing with a spoon. Now apply the onion juice to your genital warts. Rinse it off by using warm water after around one hour and pat dry. To remove warts quickly, reuse this easy treatment twice every day.
Precautions
Make sure to perform a patch test before using onions. Avoid excessive intake of onions during pregnancy and breast feeding.
13. Baking Soda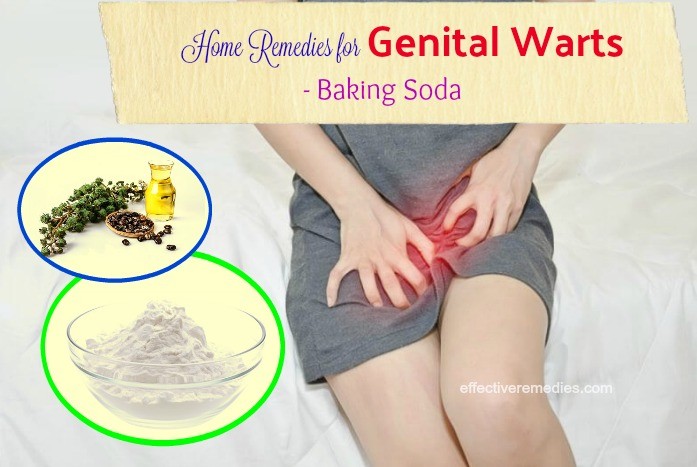 How Does It Work
Baking soda embraces strong anti-inflammatory and antiseptic properties that all help to battle the virus causing genital warts. Besides, baking soda can stop the virus from lingering by creating an unfriendly environment for it to survive.
Option 1
You Will Need
How To Do
Pat dry your body excluding the genitals after taking a shower. Start sprinkling some baking soda onto your affected area. Keep it on all night and in the morning, wash it off. Repeat this home cure every other day until this problem is gone.
Option 2:
You Will Need
Baking soda

Castor oil – one teaspoon

A bandage
How To Do
Combine sufficient baking soda in the castor oil to form a thick paste. Dab this resultant paste onto your wart and use the bandage to cover the area. Remove it after a couple of hours. Try this remedy twice every day until warts are gone.
Precautions
Baking soda can result in skin irritation in people having sensitive skin. Tingling, itchiness, and burning of the skin are a few of the side effects of baking soda. Thus, do a small patch test before applying baking soda.
14. Fig Leaf Remedy
How Does It Work
The sap of fresh fig leaves contains an enzyme named Ficain, which does cause any irritation or burning on the skin and combats the growth of the virus contributing to genital warts.
What You Need
How To Do
Pick up the fresh fig leaf and break open it to extract the milky sap. Then, begin dabbing this milky sap onto the problem areas and wait for several hours. Use this method twice or thrice a day until you notice a noticeable improvement.
Precautions
Figs may increase the risk of conditions such as melanoma, premature aging, and skin cancer. Also, it can even lead to skin rashes. If you're consuming figs on a daily basis, then you should stay away from prolonged exposure to sunlight.
15. Use Oatmeal
How Does It Work
Oatmeal is a natural remedy for all the discomfort related to genital warts. More importantly, it will help to minimize the pain, irritation, and constant itchiness caused due to genital warts due to its anti-inflammatory, anti-irritating, and soothing properties.
Option 1
What You Need
Finely ground oatmeal – 1 to 2 cups

Lukewarm water

A bathtub
How To Do
Fill the bathtub with lukewarm water and add the oatmeal to it. Next, soak in this water for roughly 15 minutes. You can take this soothing bath thrice a day.
Option 2
What You Need
Coarsely powdered oatmeal – one tablespoon

Water
How To Do
Make a paste by mixing the oatmeal with enough water. Apply the paste to the genitals and scrub gently to ease dead skin cells, sebum, and bacteria that clog the pores. It's best to exfoliate one time per week. Having fresh and clean skin can help to inhibit future warts.
Precautions
Dry oatmeal will eliminate more dead skin cells, oil, and dirt from the skin than cooked oatmeal. However, it may cause redness, irritation, dryness, or itching.
II. Must-Know Tips To Get Rid Of Genital Warts

You can easily get rid of genital warts by trying the following ways:
1. Duct Tape
Duct tape can help to remove genital and plantar warts. It cuts off the oxygen supply, thus suffocating plantar warts. For this purpose, take a tape piece and use it to cover your warts for around one week. Remove it and use an emery board to rub them. You should repeat the process until your warts vanish.
2. Apply Podophyllotoxin (Podofilox)
You can apply podophyllotoxin solution, cream, or gel twice every day for around three days. Wash your hands and affected area with soap and water. Pat your skin dry by using a clean towel. After that, apply the medicine with the help of your finger or a cotton swab. Remember to only use the amount recommended by a pharmacist or doctor. After treating the area, wait for four days. Repeat the treatment until your warts clear. It could take around 4-5 weeks.
Precautions
In some cases, podofilox can lead to mild skin irritation. If you're pregnant, don't use this treatment.
3. Keep Your Skin Clean And Dry Between Showers Or Bath
Bacteria and moisture both can hinder the healing of genital warts. Thus, to promote the recovery procedure, you need to maintain your affected region clean by washing it frequently with mild soap & water. Pat the area dry with a clean towel. Don't clean the affected area more than four times a day.
4. Lifestyle Changes
To battle genital warts quickly, you need to improve the immune system by making the lifestyle changes listed below:
Include beans in regular diet.

Consume antioxidant-rich foods such as cherries, bell peppers, blueberries, and other berries.

Include more green leafy vegetables such as spinach and kale in your regular diet.

Add healthy nuts such as walnuts and almonds.

Stop eating red meats and avoid refined carbs & sugar.

Give up caffeine, alcohol, and smoking.

Avoid all kinds of processed foods.
All the above changes will help to increase your immune system and combat the virus effectively.
III. Facts About Genital Warts
Genital warts are an STD (sexually transmitted disease). But sometimes genital warts show no symptoms or signs of infection. Thus, people may spread HPV (human papillomavirus) and genital warts to others without knowing.

HPV (Human papillomavirus) is the virus contributing to genital warts. A few of genital warts or venereal warts can be similar in appearance to warts appeared on other parts of the body, like feet or hands.

Genital warts and HPV virus can spread easily via sexual contact. This consists of oral, anal or vaginal sex.

Genital warts may develop in regions that can't be seen once they develop. For instance, Genital warts can occur inside the vagina.

After infection, it may take lots of months to exhibit signs of genital warts. It may take up to a few years to develop genital warts in some cases. This means that the condition has a long incubation period.
IV. How To Prevent Genital Warts
Genital warts are generally an STD (sexually transmitted disease). Simple preventive tips can help decrease your risk of getting them.
Use Condoms: During sexual contact, use dental dams or condoms. Wear protection during anal, oral, and vaginal sex to stay away from getting an STD such as genital warts. You can buy dental dams and condoms from convenience stores, pharmacies, or online. Also, you can get them from the doctor's offices, Planned Parenthood centers, and community health centers.
Testing For STDs Frequently: Genital warts can appear unconsciously. And before symptoms appear, the incubation period may take months. Thus, it's vital to test for STDs frequently to check for the presence of human papillomavirus in your system. Your partner also should get tested regularly.
Stay Away From Sharing Sex Toys: Sex toys may carry bacteria and viruses, and if they are shared, these microbes may easily spread. If you must share these toys, ensure that you wash them carefully and use a condom to cover them before using.
V. Foods For Genital Warts

The proper kind of food will help to boost the immune system of your body and battle a few diseases. Therefore, a person needs to pay attention to her or his diet to help prevent genital warts.
Vegetables: Vegetables are rich in minerals and vitamins that help to strengthen your immunity to combat virus such as HPV. Sea vegetables and dark, leafy greens are abundant in calcium and B-vitamins. According to the University of Maryland Medical Center, foods that boost the immunity can reduce genital warts by battling HPV. Besides, vegetables such as broccoli are rich in antioxidants, which help to neutralize free radicals damaging tissue and making your cells prone to infection.
Herbs: Herbs consist of ingredients that stave off viral infections by improving immune function. According to ABC News, garlic is effective to combat viruses, bacteria, fungal, and parasitic infections thanks to its antioxidants. Oregano is also chock-full of antioxidants, namely phenolic acids and flavonoids. Green tea is full of polyphenols. Apart from that, it contains epigallocatechin gallate that is a powerful antioxidant.
Fruits: Fruits work wonders in boosting the immunity and reducing warts. Fruits such as cherries, blueberries, and tomatoes are packed with antioxidants. Bell peppers and squash also have antioxidants. Pumpkin is flooded with vitamin A that helps to regulate the cell to cell communication, which is the foundation of your immunity.
Proteins: Foods such as fish, meat, nuts, and tofu beans are loaded with protein and contain essential nutrients for your immune system. Almonds and beans are high in calcium and B-vitamins. Tofu, lean meats, and cold water fish are beneficial for genital warts too. Oysters are also beneficial since they are rich in zinc. Zinc is an important mineral because it is crucial for your immune system.
Avoid: Stay away from foods that are processed, high in sugar and contain unhealthy fats. Lots of baked goods you find in bakeries or stores consist of unhealthy trans fats. Foods having trans fats include cookies, margarine, donuts, cakes, crackers and fast foods such as French fries and onion rings. Refined foods such as pasta and white bread are also bad for you. Don't use tobacco products and take a lot of alcohol.
VI. Dos & Don'ts
1. Dos
Wash your undergarments frequently.

Have a healthy diet.

Keep your genitals dry.

Wear cotton underwear.

Soak yourself in warm water for a while.
2. Don'ts
Don't touch or itch warts too much.

Avoid sexual intercourse with numerous partners.

Don't prick warts.

Don't have unprotected sex.

Don't share towels or undergarments.

Avoid wearing synthetic or tight undergarments.
These home remedies for genital warts are practical and easy to follow at home. If they don't bring positive results, please talk to your doctor. Plus, share with us if you know any other effective home remedies for genital warts in males and females. All of the contents provided in this article are for informational & educational purposes. We recommend you consult a healthcare professional to determine which method is appropriate for you.
Also on EffectiveRemedies.com
Advertisements by Google