Lavender oil is one of the most popular oils in the world. Because of the powerful antimicrobial, antioxidant, sedative, and anti–depressive substances, lavender oil brings numerous benefits to both making beauty and improving health. Today, Effective Remedies will show you top 14 beauty and health benefits of lavender oil and its popular uses to help you understand more about this type of oil and know how to use it properly.
14 Popular Uses & Benefits Of Lavender Oil On Health & Beauty
I. Health Benefits Of Lavender Oil
1. Benefits Of Lavender Oil – Reducing Stress
Lavender oil is a wonderful therapy in preventing neurological damage like anxiety, stress, or even depression. Studies have shown that 80 milligrams of the lavender oil can ease depression about 33 percent [1]. To use lavender oil to improve your mood, you need to diffuse the oil while you sleep in the bedroom or read in the living room. Another way is that you can apply lavender oil behind your ears.
2. Benefits Of Lavender Oil – Healing Burns And Cuts
One of the strengths of lavender oil is its antimicrobial properties. These have the ability to prevent diverse infections and fight off fungal and bacterial disorders. In fact, studies prove that lavender oil can speed the healing of wounds, scrapes, cuts, and burns [2]. To relieve the wounds, you should make the mixture of 4 drops of lavender oil and a half of teaspoon of coconut oil, and then apply it to the wounded area.
3. Benefits Of Lavender Oil – Relieving Headaches

If you are suffering from the condition of migraine headaches and want to find an effective and natural remedy, lavender oil is one of the best choices for you. It is the essential oil for headaches since it can relieve tension and make you feel relaxed. It has the function as a calming, sedative, anticonvulsant, and anti-anxiety agent [3]. However, treating headaches will more effective when you make the mixture of two drops of lavender oil and two drops of peppermint oil. After that, apply it to the temples and the back of the neck. You can also inhale it directly from the mixture.
View more: Best natural home remedies for headaches pain
4. Benefits Of Lavender Oil – Improving Sleep
Another benefit of lavender oil is improving sleep. Scientists show that inhaling lavender helps ease sleep disturbance and fight off insomnia [4]. Plus, it does not have any unwanted side effects. You can rub about five drops of lavender oil on the neck and temples . Apart from this, you can add 15 drops of this oil to the bathtub to relax the body and improve sleep.
EffectiveRemedies Partner Solutions

Ask a Doctor Online and Get Answers in Minutes, Anytime!
Have medical questions? Keep asking questions to a Verified Expert until you get the answer you need.
5. Benefits Of Lavender Oil – Relieving Pain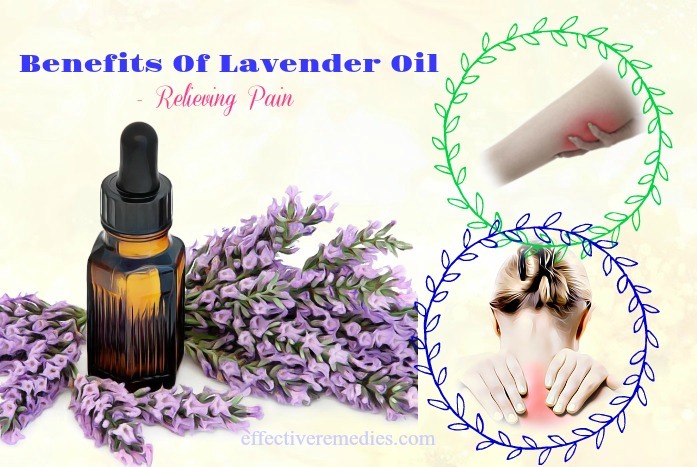 Lavender oil is also used as an effective painkiller. You need to apply lavender oil to the area of concern. It will help reduce pain and inflammation. Besides, it can relieve menstrual cramps, one condition many women have to suffer from during their menstruation.
6. Benefits Of Lavender Oil – Supporting Brain Function
Lavender oil is one of the essential oils brings various neurological benefits. It not only stops at treating depression but also helps prevent Alzheimer's disease [5]. Along with this, lavender oil is a viable therapy for neurological dysfunctions like stroke due to its antioxidant substances.
II. Beauty Benefits Of Lavender Oil
1. Benefits Of Lavender Oil – Treating Acne
One outstanding advantage of lavender oil is treating acne. Because of antimicrobial and antioxidant properties, it helps heal scars and decreases dark spots resulted from acne as well as fights acne. More importantly, lavender oil helps reduce anxiety and stress that are key causes leading to the appearance of acne. To prevent acne, you can apply directly lavender oil to the area having acne.
See more: Used home remedies for acne on face and body
2. Benefits Of Lavender Oil – Lightening Skin
Lavender oil can reduce the redness of the skin thanks to its anti-inflammatory properties. Therefore, it helps brighten skin tone. Along with this, this oil eases dark spots and the different kinds of skin discolorations. Lavender oil also lightens the skin with hyperpigmentation, particularly for the oily skin.
3. Benefits Of Lavender Oil – Preventing Wrinkles
Anti-inflammatory properties in lavender oil also contribute to the maintenance of elasticity and circulation of the skin. They stimulate the development of new skin tissues that make the skin become supple. To get the best result, you should combine this oil with one carrier oil such as coconut, almond or jojoba and apply directly to your skin.
4. Benefits Of Lavender Oil – Detoxifying Skin
There are numerous toxins existing in the environment that result in the condition of premature aging and sometimes cause immediate effects like the inflammation of the skin and the rough appearance. Lavender oil can prevent these issues by detoxifying the skin because of its potent antioxidants. Similar to calming the mind, It also can calm the skin.
5. Benefits Of Lavender Oil – Treating Sunburn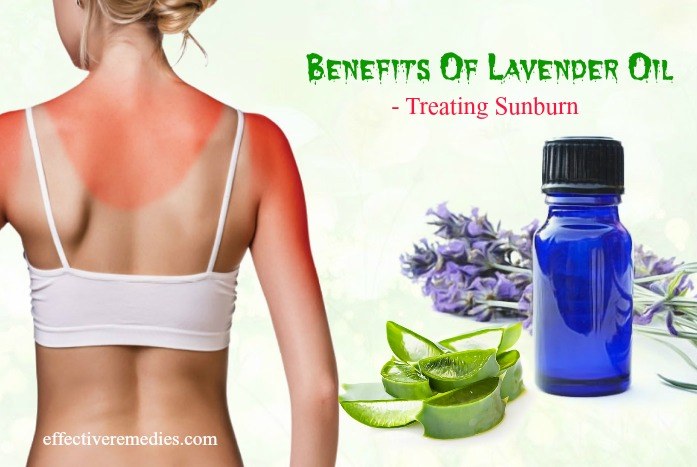 In lavender oil, there are the bacterial and antifungal properties that bring the great benefits in healing sunburn and deal with other skin conditions. This oil for treating sunburn should not contain any additive since synthetic components will make the sunburn become worse. You need to make the mixture of the lavender oil and aloe vera gel and apply to the affected skin to get the immediate relief of sunburn.
6. Benefits Of Lavender Oil – Promoting Hair Growth
Other benefits of lavender oil in promoting the hair growth are the ability to heal the dry hair and soothe the scalp. In addition, as stress is a reason leading to thinning hair, this oil also prevent this condition.
7. Benefits Of Lavender Oil – Helping With Hair Loss
Studies show that using lavender oil daily can boost the new hair growth. You can massage your scalp with lavender oil and this should be practiced consistently during 7 months to get the actual success.
8. Benefits Of Lavender Oil – Treating Dandruff
Essential oils like lavender oil contain substances against inflammation and the excessive oil secretion, but dandruff results from these factors. Besides, lavender oil is a gentle and natural moisturizer that is suitable for applying to your scalp. To treat dandruff, you should combine 15 drops of lavender oil with 2 tablespoons of almond or olive oil to get obvious results.
Above are top 14 beauty and health benefits of lavender oil and its popular uses. If you want to know more about other foods that can improve your health, please visit our Superfoods page and do not forget to leave your comment in the form below to show us your thoughts.